This post may contain affiliate links. Read my disclosure policy here.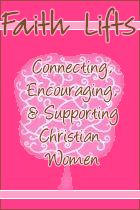 I so am excited about our new group blog Faith Lifts.
Heather and Laura have done such a fantastic job setting it up and I am honored to be writing alongside Barb, Lauren, Paulette, Marybeth, Sarah, Heather and Laura.
They are each such courageous, inspiring women of faith and I am already learning so much from them and their posts.
Saturdays are my turn to blog at Faith Lifts and if you hop on over you will find my first post, which was inspired by my son Jackson.