This post may contain affiliate links. Read my disclosure policy here.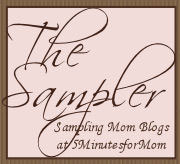 5 Minutes for Mom brings you exclusive samplings from the best mom blogs in our weekly column, The Sampler, hosted by 5 Minutes for Mom contributing editor Shera, from A Frog In My Soup.
When Jaime Compton submitted the post below she included a fun and unusual introduction that I would like to share with all of you! "Occupation: Mom. Blogging is my new therapy and release from a hectic day as a stay-at-home-mom and crafter/artist. I have a two-year old son, a 38 year old husband, and a 3 year old Chihuahua. Life is busy as most women's lives are and oh so fun. I am a private tutor for several private school students a few nights a week, stock my Etsy shop, paint shirts and onesies for local buyers as well, and every once in a while I freelance as a Lancome makeup artist." Whew! You can find Jaime and her variety of adventures and projects at her blog, Always Inspired.
Multitasking
Let's face it, if you're a mom, you are a multitasker. If Universities handed out degrees in the art of Multitasking, mothers would hold doctorates. I am currently working my way towards a master's.
Multitasking for me, as for all women and mothers, is an innate ability that we seem to be born with. We can cradle a phone to our ear to catch up with a girlfriend all while we pull weeds, change a dirty diaper, and clean up dog poo from the living room rug. Our days are long and filled with chores and tasks necessary to keep our houses functioning. Not to mention there are additional responsibilities like play dates, getting in an exercise workout, and finding time to scrapbook two vacations ago.
Just the other day I discovered a valuable life lesson in multitasking. If one has the choice between answering the phone or putting on socks and shoes for a sitting and patient two year old, one should opt for the socks and shoes. If it is important, the person calling will call back. If they don't call back, oh well, I didn't have time anyway. A two year old, however, will probably never again sit waiting to put on their socks and lace up shoes (lace up is what the foot doctor insisted on; Velcro would just be too easy).
Ever since I became a mom I've discovered that I have this intense yearning to do lots of things well. I want flowers blooming in my garden, a clean organized home, Christmas pictures arranged into one album… not two decades of pictures crammed inside a few shoe boxes (sorry mom), heart shaped sandwiches at Valentine's Day, perfectly wrapped presents for birthdays, and a somewhat healthy dinner prepared nightly. Healthy for me is at least one microwaveable vegetable. I do this because I want my son to have the most wonderfully memorable childhood.
Do I still have 5 lb. dust bunnies underneath my furniture? You bet. Is there still half eaten Cheetos in my couch cushions? Sure! Does my linen closet even remotely resemble a picture from Martha Stewart Living? No way near.
I know that for me, I often get caught up in the many tasks at hand and begin to get stressed. At the end of a long day, to keep myself focused and grounded, I concentrate solely on one thing… God has blessed me and entrusted me with a beautiful son, a loving and somewhat patient husband, and an obnoxious Chihuahua. Once they are all tucked in my home safe and reasonably sound that is all that matters.
Oops, did anyone feed the dog today?
~ Written by Jaime Compton of Always Inspired.
If you would like to be considered for The Sampler please review The Sampler Guidelines.
This column is Hosted by Shera. She can be found at A Frog In My Soup