This post may contain affiliate links. Read my disclosure policy here.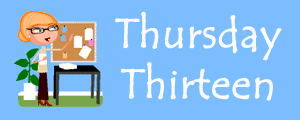 Banner by Chaotic Home
Where do suburban moms spend too much time?
(Not including their computers!)
Yes – driving. Now that the fall routine is starting, here are 13 places I will be driving to on a regular basis.
13 Places I Will Be Driving to Regularly This Fall
Preschool – Yes, my big boy is back for the four year old program at preschool!
Susan's house – Sue only lives a few blocks away, but I tend to drive there most of the time because I am either in a hurry, bringing too much stuff to carry or picking up Julia. We have our home office at Susan's house and Jackson and I spend more time there than at our house! (Although I do most of my blogging at my kitchen table after Jackson is in bed.)
Daycare– Jackson goes to daycare two days a week. He started last November when I was sick with my pregnancy and he was getting bored at home while I babysat Julia. When I added two days of daycare at the YMCA his behavior improved. I think he just needed the extra regular socialization and stimuli of children his age. It is ironic because when he was two and a half, I quit my job as a youth worker to avoid daycare – we tried day care one day a week, but he hated it. Yet the difference between a two year old at daycare and a four year old is huge. Now he has so much fun that when I pick him up he still lingers playing with his friends.
Church – Our church is eighteen minutes away (averages between 16 and 20 minutes.) We were attending a church in our neighborhood, but we changed churches last year. Other than the extra gas we use commuting, we love it there!
Home Group – Yes, our Bible Study group is also eighteen or so minutes away.
Ice Skating– Time to get cold already! I couldn't believe I was bundling up with jeans, socks, shoes and a coat when the sun was still so hot outside.
T-ball – It seems like a spring thing, but they were offering an indoor version, so I signed Jackson up for Saturday mornings.
Scrapbook Store – oops – no, that was before I started blogging.
Grocery Store – We need to eat! While my hubby is wonderful and helps out with the grocery shopping, I still end up spending more time – and money – than I would like at the grocery store.
Costco– I hate how big my bill is there, but it is so handy for some items.
Play Dates – With fall being so busy, we won't have too many. But now that Julia is getting older, I will probably be taking her for some play dates while Jackson is busy with his activities.
In Laws – My hubby's parents live 15 minutes away and they have us over for family dinners quite often.
Gas Station – Way too often.
Get the Thursday Thirteen code here!
The purpose of the meme is to get to know everyone who participates a little bit better every Thursday. Visiting fellow Thirteeners is encouraged! If you participate, leave the link to your Thirteen in others comments. It's easy, and fun! Be sure to update your Thirteen with links that are left for you, as well! I will link to everyone who participates and leaves a link to their 13 things. Trackbacks, pings, comment links accepted!
View More Thursday Thirteen Participants