This post may contain affiliate links. Read my disclosure policy here.
What if you and your kids could all enjoy movie night together?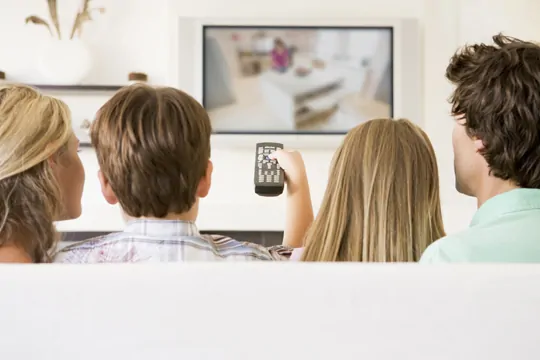 It's a scene that is familiar to all moms. You sit down on the couch with your young ones, excited to enjoy a little downtime together. You flip on the TV and begin channel surfing, looking for the perfect program to all enjoy together. Given the night, you can flip through all 562 channels and not find a single appropriate program.
Because, let's face it, we can only watch America's Funniest Home Videos so much before our brains start to melt. Am I right?
If, on the off chance, you happen to catch an evening where there are one or two reasonable shows on for your young children, you will likely find yourself scrambling for the remote at some point during the commercial while screeching at your bewildered children to close their eyes. Whether it be an advertisement for a scary movie or a Hardees commercial, little is safe on TV these days.
That's why I'm happy thrilled to announce a new movie coming out August 6 as part of Walmart and P&G's series of family friendly movies.
Remember Family Movie Night as a kid?
Remember how exciting it was to sit down as a family and catch a movie that you've seen advertised for weeks? Remember how safe it felt to snuggle up to your parents on the couch, the vivid colors dancing across the darkened walls? Remember laughing and talking and just being together in an environment that didn't force your parents to have to defend morality and purity?
Walmart and P&G are bringing back Family Movie Night.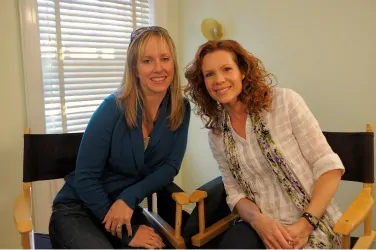 Several weeks ago I had the amazing opportunity to visit the Montreal set of the movie Where is Simon Miller? I spoke with the Executive Producer from P&G, Joel Rice, who told us the reason they began this initiative to bring back Family Movie Night.
"We [Walmart and P&G] wanted to team together to serve families with great entertainment," he said. "We began to do a little research to gauge what Moms were looking for and we found that Mom's want something that achieves greatness that doesn't make their jobs harder."
Conducting research with the Association of National Advisors' Alliance (ANA) for Family Entertainment, Walmart and P&G conducted a survey of parents across America. The results proved what they already suspected: 94 percent of those surveyed said it's extremely or very important that their families spend time together and entertainment is a primary way their families get together. 81 percent say they enjoy watching movies with their families and 75 percent enjoy watching TV together.
So putting their creative juices to work, the two powerhouses teamed up to begin an initiative to bring quality entertainment to families in a safe and natural environment. Blending excitement and intrigue with heart, these family friendly movies are meant to bring families together, spur conversation and to give us moms a little break.
What's not to love about that?
"Where is Simon Miller?" is an exciting movie for parents and kids alike. Simon Miller (Loren Dean) travels often, leaving behind his wife, Meredith (Robin Lively) and two teenage children who all believe him to be a successful, if perhaps overworked, geologist. In reality, Simon is a spy who is jet setting around the world on secret missions under numerous aliases. When he doesn't come home as scheduled, Meredith and the kids break into his locked office in search of itineraries and find passports and documents that lead them to the conclusion that Simon isn't who they thought he was.

They head out on a mission to track down Simon, traveling to France in search of clues. There are double agents (the lovely and talented Christine Baransky) to battle and relationships to mend as they seek out the truth about the husband and father they thought they knew. While the movie is exciting, it also provides talking points for families on trust and faith in one another.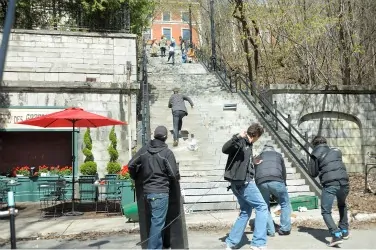 Not only did I have the opportunity to watch the filming of several scenes, I was also able to speak with Robyn Lively and Christine Baransky about what drew them to this particular film. Not surprisingly, as mother's themselves, they both expressed the desire to be a part of something that brought families together through the medium of entertainment. They were both wonderfully pleasant and down to Earth and it was a delight to speak with them. Here is a video that gives you a sneak peek of my days behind the scenes and my conversation with Christine Baransky in which she shared her wisdom as a mother of two grown daughters.
Our Exclusive Interview with Christine Baransky
I'm not sure if you caught it, but Christine Baransky herself just told all of us that it's important to get a massage every once in awhile. So tell your husband, because who's really going to argue with Christine Baransky, right?
Where is Simon Miller? will premiere on Saturday, August 6th on NBC. You can also catch Walmart and P&G's newest Family Movie Night special, Field of Vision, this Saturday, June 11, on NBC at 8/7C.
A big thanks to P&G and Walmart for flying me to Montreal to see and experience the making of this film. I was not compensated for this post. All opinions expressed are my own.