This post may contain affiliate links. Read my disclosure policy here.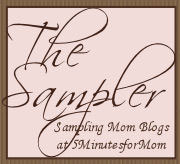 5 Minutes for Mom brings you exclusive samplings from the best mom blogs in our weekly column, The Sampler, hosted by 5 Minutes for Mom contributing editor Shera, from A Frog In My Soup.
Jackie from "where the boys are" is the mother of three boys ages 16, 13 & 9. She is the wife of a loving husband, whom she still has a crush on after all these years. She enjoys being the "queen" of her castle and being pampered by the men in her life.She lives a busy life that moves at a rapid rate but she still finds time to blog about it. I truly enjoy the reminder she shares with us today in her post and as I teeter back and forth between a set of two year old twins that make me a little nuts and head all to quickly toward those dreaded teenage years with my oldest son.
Longing for the Terrible Twos
Being the mother of a newly, licensed, teenaged driver is about to kill me. This is by far the hardest parenting stage I have had to go through. Terrible twos? Bring them back! Please! I would much rather wrestle a toddler, who is in the throws of a tantrum, to the ground, than sit and watch my 16 year old son pull out of the driveway each day.
We have instituted a rule that he has to call or text me when he arrives at his destination. The same goes for when he begins the trip home. This gives me ample time to sit and watch the clock while biting my nails to the quick while I wait for my phone to ping or ring.
It was so much easier to spend sleepless nights rocking a baby as opposed to waiting up watching for those headlights to dance across the garage door, telling me that he's home safe and sound. At least you know the baby in your arms is safe while you're holding him and feeding him a bottle at 2 am.
I reminisce fondly about the days when he wore bibbed overalls and "asked" to hold my hand. When I wiped his chin and the other end and when he would beg to snuggle with me in my chair. I remember smelling his soft blond hair right after a bath and tucking him at night with a song and a story.
These days he's more interested in hanging out with his friends and stretching the boundaries of freedom that having a driver's license affords a 16 year old boy. Eating with the family is a rare occurrence and I'm often in bed long before his head ever hits the pillow.
I guess I always thought it would get a little easier as they got older, but I can see now that I was wrong. He struggles to gain his independence while I struggle with letting him. He tries to spread his wings and fly while I try to keep him from leaving the ground. He smiles at me and says, "Mom, don't worry." I smile at him and say, "that's my job." He drives away while I pray without ceasing.
He takes one step closer to becoming a man, as I take one step closer to understanding the meaning of letting go.
~ Written by Jackie Loudin of Where the Boys Are.
If you would like to be considered for The Sampler please review The Sampler Guidelines.
This column is Hosted by Shera. She can be found at A Frog In My Soup