This post may contain affiliate links. Read my disclosure policy here.
Grab your camera – or search your archives – it is time for another photo contest here at 5 Minutes for Mom!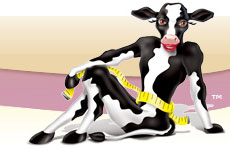 This time we are celebrating summer fun with our sponsor The Skinny Cow, who recently launched their newest too-good-to-be-true treat, Skinny Dippers.
Since my greatest weakness is dessert – especially ice cream -The Skinny Cow is my kind of company! I am all about indulging in my favorite treats in a responsible manner. That means finding treats that taste insanely good, but don't pad my waist with a crazy amount of fat and calories.
So when The Skinny Cow wrote me to tell me about their latest creation, Skinny Dippers, it was all I could do to not jump in my car and go buy some of these dreamy treats.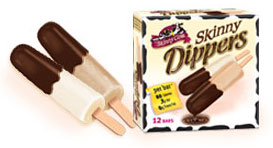 Weighing in at just 80 calories per pop, the perfectly-portioned chocolate-dipped ice cream snacks are available in rich vanilla, creamy caramel and refreshing mint flavors. Skinny Dippers contain no trans fats or artificial sweeteners and are only 3 grams of fat, making them a great option for guilt-free indulgence for the entire family.
But before I went on a Skinny Dippers hunt, I thought, "Hmmmm… The Skinny Cow sounds like the perfect sponsor for a summer fun photo contest…"
Which brings us back to YOU and YOUR PHOTOS!!! Let's have some photo contest/carnival fun!
The theme for the contest is Summer Fun – which leaves it wide open for your creativity. Your photos can be of kids, adults, animals… anything that represents summer fun to you! Just keep the shots family friendly please.

Here is how our "Summer Fun" photo contest/carnival will work:
For the next two weeks, we will accept entries. We are looking for photos that reveal the spirit of summer fun – however you want to do that. Entry deadline is Wednesday, August 13th, 3pm EST.
If you are a blogger, post your photo on your site and then come back here and add your link to the Mr. Linky. (In your post on your blog, you can explain that it is a part of this contest and link back here. Explaining your photo is totally optional. If it adds to it, write about it. If you would rather let the picture do all the talking, that is great too.)
If you are not a blogger – you can still play!!! Just email us your photo, with the subject line Summer Fun Photo Contest, to 5minutesformom @ gmail dot com. (Please add your image into the copy of the email so that we do not have to open attachments.)
We will post the finalists on Friday, August 15th. If you are selected as a finalist, feel free to announce it on your blog, facebook, twitter, etc and get your friends to vote for you. That is fair game. But please play fair and do not use proxy servers or other black hat methods of increasing your votes. If we do discover unfair practices, we will have to disqualify the parties involved. Remember the spirit of our site and play nice!
Voting will end Friday, August 29th, 3pm EST. We will announce the winner the same day! 🙂
This contest is only open to US residents, and please enter only one of your best photos. (So sorry Canadians, Aussies, etc! As Canadians, we feel your pain! However if you are not a US resident and thus not eligible for the prizes, you can still participate in the carnival fun. In our Motherhood Photo Contest we had an Aussie who participated on her blog and won an honorable mention with her fantastic photo. So join in anyway – don't miss out on the photo carnival fun–just be sure to state clearly in the entry that you are not eligible for the prize.)
Ready…set…go!
Entries are now CLOSED. We will post the Finalists on Friday, August 15th.