This post may contain affiliate links. Read my disclosure policy here.
There are some definite bonuses to this blogging thing. The swag is celebrity-cool!
As you all know, the PR firms just clamor to get their products in front of you powerful moms. And I just happen to be stuck right there in the middle. Yes, some days it is really great to be me. (But if you are feeling a tad envious, ask my husband how he enjoys my bloggy job. He isn't too happy with my never-ending work hours.)
My favorite pieces of swag that have landed in my lap are my purses by The Sak. These eye catching purses get me attention wherever I go. From the playground to BlogHer, people stop me all the time to comment on my purse.
But do you want to know the greatest thing about these purses? (Which I of course tell anyone who asks me about them.) The price!
For a reasonable price, you can adorn your day with a purse that is celebrity worthy. That is why I love The Sak. They are designer purses that normal moms can afford.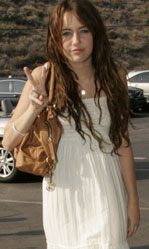 So, when my beloved The Sak PR rep emailed me to let me know that Miley Cyrus was spotted carrying The Sak Silverlake Convertible Satchel, I just had to let you know that yes, thanks to mommy blogging, I am THAT hip.
AND, like I said, if you want to have a gorgeous, high quality, designer purse that didn't cost several hundred dollars, hit The Sak. Ya – we mom bloggers can be as hip as Miley Cyrus.
Shopping Hint: My two The Sak purses that I get all those great comments on are BOTH on sale right now for 25% off. This one is $89.25 and this one is $81.25. Seriously. Those are some great prices for some very cool purses.