This post may contain affiliate links. Read my disclosure policy here.
Do you follow a vegan diet?

Claire Gosse, the author of Are You Sure That's Vegan, a cookbook series featuring unexpected vegan recipes, is dropping by today to share a recipe for vegan apple oatmeal muffins.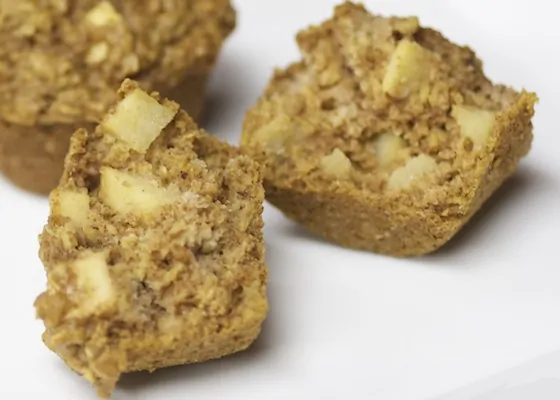 Claire is a fabulous source for delicious vegan recipes that truly have you asking, "Are You Sure That's Vegan?"
We are so excited she chose to share her recipe for Vegan Apple Oatmeal Muffins — AND she even shot a video demonstrating for us. Thanks Claire!
Vegan Apple Oatmeal Muffins
Ingredients
2 cups whole wheat flour
2 cups quick oats
3/4 cup Demerara or brown sugar
1 1/2 teaspoons cinnamon
1 teaspoon baking powder
1 teaspoon baking soda
1/2 cup unsweetened applesauce
1/2 cup canola oil
1 1/2 cups soy milk
3 apples, peeled and diced into small pieces
Directions
Preheat oven to 350°F. Grease muffin tin(s) and set aside.
In a large bowl, mix together the flour, oats, sugar, cinnamon, baking powder and baking soda. Add the oil, soy milk and applesauce, mix well. Stir in the diced apples.
Fill the muffin cups 2/3 full with batter.
Bake for 20-25 minutes or until a toothpick inserted in the centre comes out clean. Let the muffins cool for a few minutes before removing from the tin. Allow to cool completely on wire racks.
Makes 14-16 muffins.
Tell us about your vegan experience. We would love to hear. Are you a steadfast vegan? Do you just dabble with vegan eating? When did you start? Or are you considering just trying out a recipe here and there?

Written by Janice Croze, co-founder of the Mom Blog 5 Minutes for Mom.
I would love to chat with you more: @5minutesformom and Facebook.com/5minutesformom