This post may contain affiliate links. Read my disclosure policy here.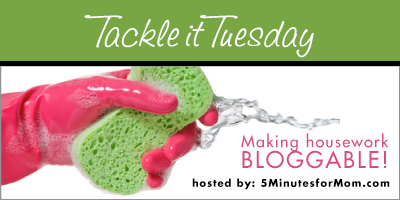 Susan here, checking in for tackle duty…
The most frustrating part of tackling housework when you're a mom is the sense of futility as you know how quickly your hard work will be undone.
We live in a rather small townhouse where our living room area and would-be-dining room area forms one TV/Living/Playroom area which extends directly off of the kitchen/entrance-way. So it's one narrow, long room which essentially is where my girls and I eat, work and play. And it's constantly a cluttered mess.
The other day, I did a giant tackle, felt huge relief and took photos to document my success. But the sad truth is that now after Julia's 6th birthday party, there are piles of new toys that haven't yet found homes and the place again looks a mess.
But let's pretend that it still looks just like it did after my recent tackle…
Before (Well, Basically What It Always Looks Like)
After (For A Brief Moment In Time)
Mom Bloggers — what are you tackling this week? Link up your Tackle it Tuesday post…
Tell us what you're up to with all your other tackles… housework and otherwise… add your link to your tackle in the Linky below!
We are making housework bloggable — Each week on Tuesday, we are posting before and after pictures of a project or trouble area that we tackled this week.

Find out more about Tackle It Tuesday here.
The project can be little or big – whatever you want.

Basically, Tackle It Tuesday is about giving ourselves incentive, deadlines and satisfaction in getting our household tasks done.

(It doesn't even have to be housework… just whatever is on your To Do list.)
If you tackled a project this week, just add a comment and add your link below.
Here is a fun thumbnail linky:

And here is a basic linky if you prefer your linkies the good old fashioned way!

Can You Help Spread The Word?
Family biking season is almost here… but sadly not all families are able to get everyone out for a ride. Often children or adults with special needs are left behind.
For the last few years, we have been helping change the lives of many children and adults with a wide variety of disabilities as the Caboose Trailer Bike enables them to ride a bike for the first time ever.
If you know a family who could benefit from a Special Needs Bike, please let them know about the Caboose Trailer Bike.
Written by Susan Carraretto, co-founder of the Mom Blog 5 Minutes for Mom.
Talk with me: @5minutesformom and Facebook.com/5minutesformom.