This post may contain affiliate links. Read my disclosure policy here.
Like books? Check out our new site with new reviews and giveaways each week, and a fun new monthly carnival which starts Tuesday July 29 where you can tell us What's On Your Nightstand.
When I was younger, I often selected books based on the thickness of their spine. I read so much and so quickly that I wanted to get bang for my buck, so I selected thick books so that they would last longer. When I was trying to decide among several books, the thickest one always won out.
The way a book looks still affects me. Trade paperbacks are most appealing, and a compelling picture and the font of the title also calls to me or turns me away (I mused a bit more about these odd predilections that I seem to have developed of late in another post on my Snapshot blog).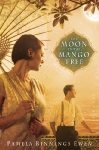 The Moon in the Mango Tree did call to me. I liked the color, the size (thick!), and the plot elements to which the back-of-the-book description hinted: medical missionary work in rural Siam, the choices one makes when we get married, and the setting of the 1920's.
Author Pamela Binnings Ewen based this novel on her grandmother's life. Knowing this, I was even more impressed with the story, because the heroine makes choices and expresses feelings and doubts that would be labeled as "irresponsible" by some people and cause some people to root for her, and others to perhaps question her decisions. This is not simply a feel-good tribute to a family member. It's a novel based on the very interesting life of someone who happened to be her grandmother.
Barbara Perkins goes to remote Siam as a newlywed–not knowing much about her husband or what the life of a medical missionary's wife would require of her. She gives up the promise of a career singing opera to move to an unknown land in support of her husband. This sacrifice and the confusion over their rightful place in that country fuel her discontent with that life. The place and time of this novel provide captivating and realistic layers to the characterization and plot. The time is the 1920's, and in addition to a mission hospital in Nam, the settings include Bangkok, Italy, and France. Ewen writes descriptively about these places which makes certain scenes read like (a very interesting) travelogue.
Would you like to win one of two copies of The Moon in the Mango Tree (U.S. shipping address only)? Leave a comment here, and tell me which part of this book's plot intrigues you most.
The winner of last week's book, I Brake for Meltdowns, is #222 Kefe.
This is a part of the Bloggy Giveaways carnival, taking place from July 28 – August 1. Go HERE for all the details to find out how to join up with your own giveaway or to enter some of the other contests that will be linking up all week.