This post may contain affiliate links. Read my disclosure policy here.
My three year old Julia was thrilled with our airplane ride and fancy hotel… but meeting Abby Cadabby from Sesame Street sent her over the top!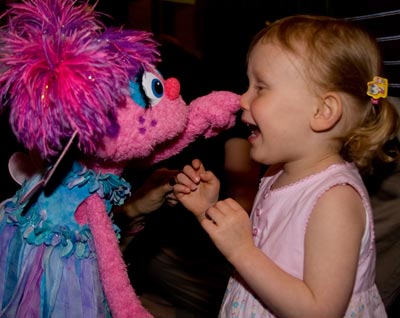 This year at BlogHer 08 there was a Sesame Street room packed with tasty treats and the real-life Grover and Abby Cadabby. Can a 3 year old's life get much better than having a Sesame Street puppet come to life and play with her?
The only trouble was that Julia thought that Abby was her new friend and back at the hotel room she wanted to phone her and ask her to come over and play.
(Since our babies, Sophia and Olivia, are still nursing, Janice and I brought an entourage of both babies, Julia and my nanny with us to BlogHer. You should have seen all of our luggage! It was beyond embarrassing.)