This post may contain affiliate links. Read my disclosure policy here.
I have a four-year-old son who sometimes displays exasperating behavior, so I was very interested in reading I Brake for Meltdowns: How to handle the most exasperating behavior of your 2 to 5 year old. I told my sister-in-law, mother of a three-year-old daughter (whose behavior I will not classify here on the world wide web), that I was reading it and thought it had some pretty good ideas.
"Is it real?" she asked. "I hate it when people write these parenting books and never tell about real less-than-perfect situations."
"Well, the author recounted a story where she was so mad that she threw a plate. That's real, right?"
That got my sister-in-law's attention and also got me thinking about why I did enjoy the book. It is indeed real. The truth is that preschoolers can be exasperating, and for that matter as the mother of a preschooler, I'm sure that I can be a bit exasperating to him as well. The authors bring their life experiences to the table. Michelle Nicholasen had five children in four years (with triplets in the middle), so she gained her expertise the hard way. Barbara O'Neal is the Educational Director at Arlington Children's Center, in Arlington, Massachusetts where she partners with families to give their children the best environments possible.
The parenting philosophies presented here are very modern. As far as the role of the child in a family, it's a bit more child-centered than I practice (she doesn't ever try to get away with a simple "I'm the parent, that's why!"), but that doesn't mean that there aren't great ideas (or simple encouragement) that any of us in the midst of parenting this precious and precarious stage of life might appreciate. That said, the book does not advocate a family where the children rule, but instead encourage parents to actually be parents by helping you to set limits (which you decide work best for your family) and pinpoint the best method of communication that will work to get through to your individual children. That I really liked.
I also appreciated the clear organization of the book. It does not have to be read through from chapter one to the epilogue. The book can easily be used as a reference. Having meal-time battles?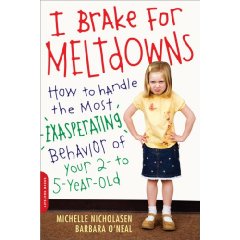 Turn to chapter four. Are you at your wit's end over potty training? See chapter five. Is your child's anger out of control? Read chapter seven. Is your anger out of control? Turn to the epilogue.
Each chapter outlines the issue at hand and helps you evaluate the specifics as they pertain to your family. Helpful suggestions for words and phrases to use with your child are given, and the "Been There" vignettes within a box are where the author "gets real." Then a series of "What If's" are presented, with the options laid out for you (giving you choices about what to institute for your family or for a particular situation).
Each child is different, and each parent is different. The authors of this book recognize this and instead of prescribing some radical or rigid parenting method, they educate and invite the reader to take what works for them.
Would you like to win a copy of I Brake for Meltdowns? Leave a comment on this post. The winners will be announced in next week's column.
The winner of last week's book Washington's Lady is #82, Heather.
Remember to check in with the new 5 Minutes for Books site each day for new book reviews, recommendations, and giveaways.