This post may contain affiliate links. Read my disclosure policy here.

Project to Tackle: Washing Our Van
I never wash my van by hand. I wait till I can't bear it anymore and then I go through a car wash. On a rare occasion my husband will wash it for me. But pretty much I am a car wash kind of girl.
Now what makes this funny is that my when we were first married, and I had a second hand, but very cute, black Acura Integra, my husband told me not to go through car washes because they weren't good for the car. (Well, what did he expect me to do – wash it by hand?!? We lived in an apartment complex with underground parking for goodness sakes.)
So off I headed to the car wash. And all would have been fine except I decided to listen to the radio as I sat there enjoying life as the giant brushes scrubbed my car. Oh – you mean I am supposed to turn off my radio and put down my antenna? Oh. I didn't know that…Yes. I broke my antenna. So for the rest of our life with that car, I drove around with a bent antenna that only went half way down. (It is remarkable how many people will ask what happened when they see a mangled antenna.)
Now you would think that one car wash incident would be enough for me — but no — I am that dumb!
With our next car, which was a very old Acura Legend, I forgot to put the lid back on the gas cap and shut the little door. No big deal right? Happens to you all the time? Yes, well I decided to go through the car wash and I had no idea that my gas lid was undone and open.
Yes.
The car wash ripped of the little gas door thingy (what is that thing called?) Boy was I embarrassed to come home and show my husband that one! (Fortunately that car was on its last legs, so I wasn't nearly as traumatized as when I damaged my other car.)
I haven't had any problems yet with our minivan, but I imagine I will have some sort of incident soon enough.
But today the sun was shining and my van sat filthy in our driveway.
So Jackson and I tackled the van.
Unfortunately it wasn't until Jackson started spraying the van down that I realized that this could be tackle-worthy. So I ran and grabbed my camera and started shooting, but not soon enough for a "before" picture. So close your eyes and picture a really dusty van with a lovely gift from a pigeon on my driver side window.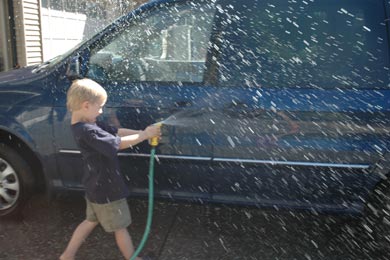 Jackson had a blast soaking himself…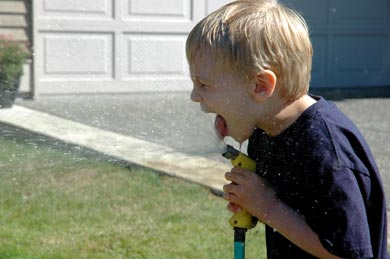 I had a blast taking photos…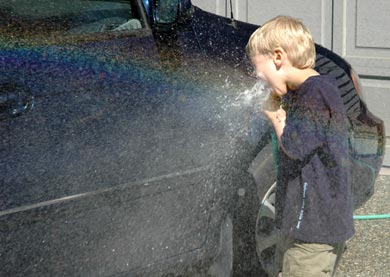 And our van soon sparkled!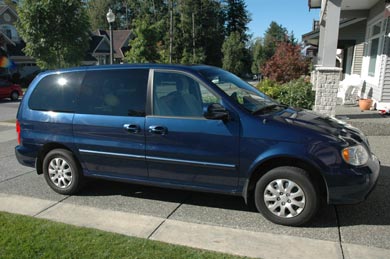 Because I needed to make sure that it was impressive enough for you all, I did a very thorough wash, rinse and hand dry. I even cleaned the inside windows!
Do I rock or what?!?
Join Us For Tackle It Tuesday

We're making housework blog-able!

Each week on Tuesday, we are posting before and after pictures of a project or trouble area that we tackled this week.

Find out more about Tackle It Tuesday here.

The project can be little or big – whatever you want. Basically, Tackle It Tuesday is about giving ourselves incentive, deadlines and satisfaction in getting our household tasks done.