This post may contain affiliate links. Read my disclosure policy here.
Blogging life doesn't get more exciting than this…
"5 Minutes for Mom" has grown a whole new FAMILY!!!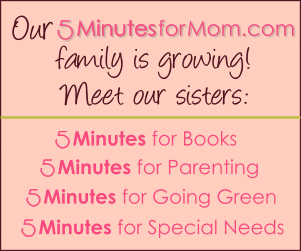 You know that this site is run by twin sisters, but now we want to introduce some new 5 Minutes for Mom sisters:
Parenting children with special needs is a gift, but it is also a difficult journey. At 5 Minutes for Special Needs we give support and encouragement along the way, as we strive to open minds and hearts to the potential of all children.
5 Minutes for Special Needs is managed by Tammy, another big supporter of 5 Minutes for Mom who blogs at Praying for Parker.
We don't think twice about getting lost in the eyes of a child, but we must not forget the wondrous scenery from the view of a Mother. Take a moment to enjoy the voices of real Moms and their true stories of figuring this parenting thing out. We may be from different walks of life and circumstances, but we're all in it together
5 Minutes for Parenting is managed by Stephanie Precourt, who has been a long-time supporter of 5 Minutes for Mom. You can find her blogging at Adventures in Babywearing and at many other sites across the blogosphere.
Going green is not a destination — it's a journey. Together we can do a little bit each day to sustain our planet and clean up our lives, because even a small change can make a big difference. Our world is a gift, and taking care of it can be fun, fulfilling and easier than ever. No matter where you are at in life, or in this journey, green looks good on everyone.
5 Minutes for Going Green is managed by Arianne, who is also a prolific contributor in the blogosphere. Her personal blog is To Think is to Create.
At 5 Minutes for Books, we hope to encourage you to carve out time for that really great novel, or to point you to that much needed resource for guidance in parenting, marriage, or children's books. Join us for book recommendations and giveaways for all ages, exclusive author interviews and other regular features.
5 Minutes for Books is managed by Jennifer Donovan, who should be familiar to you as the 5 Minutes for Book column editor and site contributor. She also blogs at Snapshot.
These sites look fantastic thanks to the work of Ruby and Roja Design, and will be fantastic reads thanks to the hard work of the managing editors and all of their talented contributors.
We are thrilled to have such a brilliant group of writers joining us on this blogging adventure.
The last several weeks have been an exciting and exhausting road of blog building. But now we can all take a moment to sit back and enjoy the new sister sites. Drink in the designs, read the first posts and welcome our new sisters to the family.