This post may contain affiliate links. Read my disclosure policy here.
Because a great teacher can change everything…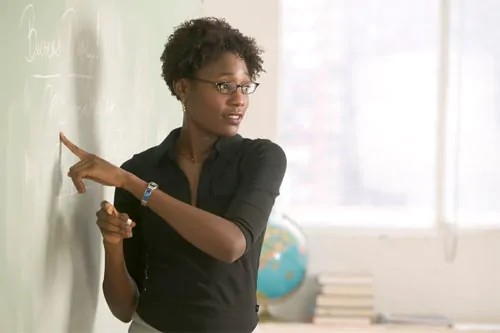 We don't forget them. Their influence is indelible. Yes, some teachers are game changers — often altering the course of our lives.
I had a horrible English teacher in the ninth grade. She made me feel like a failure and I loathed her. So when I slumped down in my chair on the first day of tenth grade English, I mumbled to my friend, "I hate English. It is my worst class."
But this new teacher — and the book To Kill a Mockingbird — changed it all for me. She restored my faith in my writing and I finished her class with an "A" and the dream of becoming a writer.
So many of us have experienced the love and dedication that a caring teacher gave out so freely. Over my school years I still remember the name of everyone of my favorite teachers.
A great teacher can truly change everything!
Rayovac is recognizing all the hard work and dedication many inspiring teachers put forward for their students.
With Teacher Appreciation Week here (May 2nd – 6th), there's no better time than the present to show teachers how much they are appreciated.

Nominate an Inspiring Teacher

Rayovac has partnered with Steve Spangler Science to host the Teachers Bring Science to Life Contest.
Students, parents and administrators have the opportunity to nominate an amazing K-6 educator.
Win one of three all-expense paid trips to Steve Spangler's Science in the Rockies July 6-8, 2011 – an intensive three-day, hands-on science training held in Denver, CO offering creative science integration strategies.

Teachers can even nominate themselves for this unique experience!

Rayovac will accept nominations at www.rayovac.com/science beginning May 2 – May 16, 2011.

Fill out the online entry form and submit up to 300-word essay explaining why the teacher nominee would benefit from this amazing professional development experience!


Rayovac will select three inspiring teachers to win the all-expense paid trip to attend Steve Spangler Science in the Rockies 2011.

PLUS, Rayovac will award the three nominators of the three winning teachers with a $100 gift card to a major retailer.


For more information, the official contest rules and the entry form can be found at www.rayovac.com/science.
Please Note: We are Rayovac Sponsored Bloggers. You can find coupons and more at Rayovac's Facebook Page.
Written by Janice, co-founder of the Mom Blog, 5 Minutes for Mom
Tweet with us @5minutesformom