This post may contain affiliate links. Read my disclosure policy here.
The bug stories for our Raid Bug Story $500 Walmart Gift Card Giveaway are pouring in — and thank goodness they are only the stories, not the actual bugs, cause there are hundreds of them!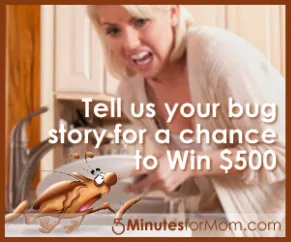 I must say, laughing at bug stories is a lot better than actually experiencing bug stories!
Check out the comments to read some funny stories — and even follow links to some fabulous bloggers who posted their stories on their own sites!
My Life in Mommyland posted about how a little black spider descended upon her while she stood at the altar! Yes — as she stood in her beautiful gown, for the best moment of her life, her husband to be whispered to her, "I don't want you to freak out, but there's a spider walking across the top of your dress."
One Cluttered Brain posted a video about her bug story — that still has my skin crawling!
And my fabulous friend, Jenny Ingram, from Jenny on the Spot did NOT disappoint us with a hysterical telling of her encounter with a Jurassic-sized bug… watch till the end… Jenny is too funny!
Have You Entered To Win One of Two $500 Walmart Gift Cards?
To enter click over to our RAID BUG STORY giveaway post and enter by telling us a funny or creepy bug story that happened to you. You can blog your story and share the link in a comment or tell the whole story in a comment.
REMEMBER to CLICK OVER to enter on the Raid Bug Story $500 Walmart Gift Card Giveaway— don't post your entries on this post.
For additional entries, you can tweet, post on Facebook and/or post on your Blog telling your friends about this bug inspired giveaway. Just leave additional comments with the links to your tweet, facebook post and/or blog post. Tweets should include hashtag #RaidBugStory
Each comment at the Raid Bug Story giveaway post will be included as an entry in our random draw.
This giveaway is open to both US and Canadian shipping addresses and is void where prohibited. Be sure to check out our site's Terms and Conditions of Use for more information.
QUICK… This ends soon…
We'll accept entries through Tuesday, May 3rd and we'll announce the lucky winners on Wednesday, May 4th.
Thanks to our Sponsors

Raid Max® Bug Barrier creates a barricade around your home preventing 8 different types of insects from coming indoors.
Written by Janice Croze, Mom Blogger and 5 Minutes For Mom Co-Founder
Stay with us… grab our RSS feed, tweet with us and join our newsletter list.