This post may contain affiliate links. Read my disclosure policy here.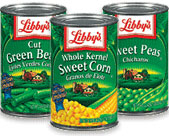 Libby's wants to save you money in the grocery aisle and help get your family back to the dinner table!
Last night, Jennifer and I were talking about the "good old days." Both of us married over a decade ago when we were young (read: poor) and lived on so much less money.
Back then, Phil and I had a combined salary that was less than half of what we live on now, (and trust me – we still are living on a tight budget,) but we were able to make ends meet.
Even though it was only a decade+ ago, it seems like a different era.
It cost only eighteen dollars each for us to fill up our two-door, second hand cars. And our grocery bills were a fraction of what they are today. Granted we now have kids and all the costs that go along with raising hungry, growing monkeys, whom we shuttle around in a minivan. But seriously – things are getting crazy!
Honestly, I feel like a financial failure most days. I look around and wonder, how is everyone else doing it? What is wrong with me? Why can't we live on less? Why can't I get my grocery bills down? How can I cut back even more on our driving?
But the truth is – it just costs more to live now. Gas, milk, eggs, chicken… everything costs more. And with incomes not raising to match these inflating prices, many of us are stuck looking at a budget that doesn't add up.
Libby's is responding to people's concerns with their new campaign, Get Back to the Table. With a helpful website that gives cost-and time saving tips, Libby's wants to save you money in the grocery aisle and help get your family back to the dinner table!

Get Back to the Table features:

A recipe database featuring nutritious and tasty recipes that take just ten minutes to make for under $10 or less to prepare for a family of four
Downloadable tools for managing grocery budgets and planning out the week's meals
Expert advice from Hannah Keeley, mother of seven and author of The Total Mom Makeover: The Six Week Plan to Completely Transform Your Home, Health, Family and Life, whom we featured here at 5 Minutes for Mom last year.
What about you?
Do you have any tips or tricks that help to keep your family on budget despite life's soaring costs or help you to get your family to spend time around the dinner table?
One of Susan and my survival tactics is to team up for dinner time. (Yes – Susan and I team up a lot in life!) Since we are both busy WAHM's on tight budgets, dinner time can be a stress both financially and time wise. So once or twice a week, we crash dinner time at each other's houses. We get the benefit of pooling our resources, and the kids get the added fun of having dinner time together. Granted in our small houses, it is loud and chaotic – and at Susan's house there are not even enough chairs to go around – but it is fun and it saves us time and money!
Share one of your family's tips – or simply hang out with the rest of us trying to scrape by (misery loves company right?) – in the comments below, and we will draw one lucky winner who will receive $500 courtesy of Libby's to help ease their family's budget pains.
We will draw the winner July 18th. (So sorry to our fellow Canadians, we have to limit this contest to US shipping addresses.)