This post may contain affiliate links. Read my disclosure policy here.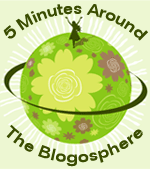 ANNOUNCEMENTS
Are you a gadget enthusiast? Popgadget is looking for a blogger who can commit to writing at least 5 posts per week on the latest technology for women. For more info on this paid gig, stop by Popgadget.
Baby Tea Leave's Weightloss Challenge was such a success that she decided to keep it going in the Summer of Me! event. To join in on the fun, stop by beginning tomorrow, June 24th.
Join the Summer Reading Groupies at Sunnybrook Farm Designs and share your favorite books with the rest of the group. At the end of August, one random winner will be selected to win an "Anna" Bookmark.
Mark your calendars because on June 27th, Summer's Nook will be celebrating her blog's 1st birthday with games, door prizes, and giveaways every hour on the hour. How cool is that?
From June 23rd – 27th, The Friendly Book Nook will be hosting a Summer Reading Extravaganza with awesome prizes to be won. Each day, they'll be posting a specific summer reading topic for you to blog about. Stop by for more info.
Parents Magazine is looking for a few families to feature in an upcoming edition which deals with discipline conflict – where mom and dad don't agree (one yells, one doesn't; one believes in time-outs, the other doesn't, etc.). If interested, please email the editor — Jacqueline Burt Wang (jburtwang at yahoo dot com) and send a copy of your note to Elizabeth (elizabeth at pantley dot com).
CONTESTS & SWEEPSTAKES
Have you always wanted to hear yourself sing on the radio? Got what it takes? Enter the Aleve Good Moves Worth Singing About Contest and you could win $2500 plus a chance to hear your song on the airwaves! Deadline is June 30th.
In conjunction with the Aleve contest, M80 is also hosting their own contest where you could win an iLive iPod Karaoke Machine & $15 iTunes Gift Card!
Write a mini-saga and if your entry gets the most votes, you could win $50 worth of Miessence Organic Skin Care Products. Stop by Organicsyes's Weblog before June 23rd to enter.
TypoBuddy Blog is giving away $50 to eBay to the person who finds the worst mispelling eBay auction using the TypoBuddy program. Deadline is 23rd.
BLOG GIVEAWAYS
GREAT DEALS
A couple of months ago, we mentioned a fundraiser to help Shaun's brother in his fight against brain cancer. Since then, he has made a full recovery and is doing well. To thank you, they would like to offer everyone a free download of one of his songs on Rapidshare. Here's the download link: http://rapidshare.com/files/123604882/04WhenITakeYourHand.mp3
The Caregivers Marketplace offers consumers valuable rebates on products such as Huggies, Goodnites, Pullups, Nature Made Vitamins, and many other items you use on a daily basis. Forms can be downloaded online or picked up at stores like Kmart and Hy-Vee and redeemed at any store of your choice!
INTERESTING SITES
Did you know that one third of American households pay on average 40 percent (4.4 cents more per kilowatt-hour) more for their electricity bills solely because they live in states without Federal regulation? Well, the Campaign for Fair Electric Rates (www.FairElectricRates.net) is committed to raising awareness of this price discrepancy between regulated and deregulated states. Stop by for more information on what you can do to make a difference.
If you would like to have a post on your blog featured in 5 Minutes Around The Blogosphere, please send us an email with the actual link to your post at features5minutesformom at gmail dot com and we'll see if it can be arranged.
Kailani can be found at An Island Life, An Island Review, & Island Baby Boutique.