This post may contain affiliate links. Read my disclosure policy here.
I am so in love with this shot of Olivia chewing on her review sample of Clarks kids Cruisers that I just can't stop looking at it!
And the shoes are super cute too of course!
This spring, Clarks kids expanded their line into the the US. So to promote the line, they sent us some shoes to review. But since our babies' feet weren't quite ready to slip into the size three, we had to wait to try them. (We only received one pair of the baby shoes, so it is a race to see who will grow faster and win the shoes!)
Olivia is definitely winning in the growing department. (Tomorrow, in our Wordless Wednesday shot you will see the two of them together. Olivia looks at least two months older!) So this weekend, I tried them on her. They are still a bit too big to wear – but they definitely fit well enough for an adorable photo shoot!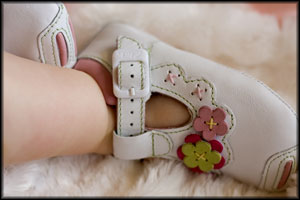 They are fabulous little shoes, with supple leather and an oh so sweet design. Definitely a beautiful first pair of shoes for this lucky baby. (They are such great quality, that I am sure that when Olivia has outgrown them and Sophia is ready for them, they will still be perfect.)
When my mom saw the Clarks box, she told me that she had bought Clarks kids shoes for us when we were young. My parents didn't have a ton of money, but my mom always found a way to get us really good shoes. She shudders in horror now if I try to skimp in the shoe department.
I wondered though how she had found Clarks kids, so I asked the Clarks PR rep if my mom was confused. But apparently my mom just had great taste and went for the "imported" shoes! Clarks kids is a well established brand in the UK and has been distributing them for 100 years, so my mom must have found a store here in Canada that imported from the UK.
I guess I will have to continue the Clarks kids tradition with my kids!