This post may contain affiliate links. Read my disclosure policy here.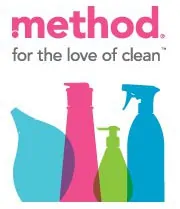 I hate laundry.
I mean I REALLY hate doing laundry.
Walk into my house on any Monday, Tuesday, Wednesday, well… you get the idea… ANY day and you'll find a pile (or many more) of dirty laundry, a dryer full of unfolded laundry… and quite often a washer full of was-clean-a-day-ago clothes that never got their chance in the dryer and now must be rewashed.
Yes, I hate laundry.
And for the FIRST time, a company has made me think a video about laundry could be cool. REALLY COOL.
Yes, I turned on my video camera and recorded myself twirling t-shirts, fluffing sheets, and dropping a sweater to reveal my name in magic marker.
I submitted a video to Method's crowd sourced music video!
Honestly, it was easy, fun and hey, I might be able to tweet all my friends and say, look… I'm in a music video! (And trust me, if you've seen me dance, you'll know this is the ONLY way I'll end up in a music video.)
So, since you're probably like me and your video camera likely is buried under a pile of papers, has no charge and contains an SD card full of footage from 6 months ago that you really are going to edit tomorrow… we're giving you a bit of extra incentive.
Submit your video… heck even have REALLY solid PLANS of recording your video once you charge your camera and transfer those files to your hard drive, leave us a comment here telling us about it… and we'll put your name in a draw for about 6 months worth of free Method Laundry Detergent. (12 bottles each handling 25 loads… so if you've got clean kids, maybe it'll last you a year… Me? I'm betting it would last 6 months.)
If this is the first you're hearing about Method's Laundry Room Love, watch this video…



Got it? It's pretty simple…
Grab your video camera or use your webcam and submit your entry to be a part of Method's Laundry Room Love crowdsourced music video, then leave us a comment and tell us you did it. (We'll even let you sneak through on the honor system if you tell us you're going to do it and then go do it.)
But you've got to HURRY… Entries for video submissions close on Friday April 15th. We'll announce our winner on Saturday April 16th.
Also, Method is giving the first 200 submissions a free bottle of method laundry detergent and everyone who watches the how-to video a $2 redeemable coupon for the laundry detergent.
This giveaway is open to US shipping addresses. Please see our site's Terms and Conditions of Use.

Please Note: We are working with Method to spread the news about Laundry Room Love. But, as usual, we only post our own opinions.
Written by mom blogger, Susan Carraretto, co-founder of 5 Minutes for Mom.
Talk with me: @5minutesformom and Facebook.com/5minutesformom.