This post may contain affiliate links. Read my disclosure policy here.
Click this link to find all the information for the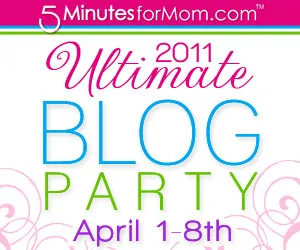 Over the last week of partying, around 3000 party-goers registered linkies and, on April 1st, the Alexa Rank of 5 Minutes For Mom hit 2000 making it the 2000th most visited web site on the entire internet. Wow, what a party!
Since then, the team has been slaving away to select and assign the prizes for the Ultimate Blog Party 2011.
Winners were selected using Random Winner (using random.org) and matched as well as possible with their preferred prize categories.
And, after hours of careful checking we are excited to announce the winners…
To see if you are one of the lucky winners, go visit the Ultimate Blog Party 2011 prize page and you'll see that the winners have been listed under each prize description.
It is a long page so search for your name using CTL+F and search on your Twitter handle or, if you don't have one, search on your last or first name.
We want to give a huge congratulations to the winners for both the prizes page and the Featured Sponsors prize page. Please DM your prize sponsor and make arrangements to have your prize sent.
And, we also want to thank our generous prize sponsors.
Sponsors, please find the Twitter handle of your winner and @reply to your winner telling her/him that she/he won your prize and to please DM shipping details or further contact information. (Please include the #UBP11 tag in your tweet so that it helps your winner see your tweet.) Please fulfill your prize in a timely manner. Thank you again!
Janice and I want to also give a huge thanks to Katie at Crafts By Katie and Welcoming Weightloss who spent countless hours making sure the prizes went to the correct party-goers. Please follow and thank her!
Remember the prizes may be out, but the partying doesn't have to stop!
Keep blog hopping… there are hundreds and hundreds of sites for you to visit. Enjoy!