This post may contain affiliate links. Read my disclosure policy here.
Unless there's a particularly compelling show on television, each time I begin my dinner preparations in the kitchen, I hear the pitter patter of little feet as four-year-old Kyle comes in to ask, "Can I help you?" He doesn't even wait for an answer as he heads over to pull the step stool up to the kitchen island.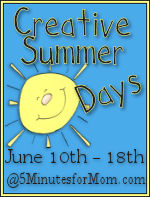 Having the kids help me in the kitchen is fun for them, and it's a character-builder for me. I have to slow down and remain calm, and be willing to take a little more time to clean up the bigger mess that it creates. It's absolutely worth it. In the short run it encourages them to try new food, because they see where it comes from, but in the long run maybe I will be able to kick back and watch my favorite television show while my kids are cooking my dinner.
Just last night, my nine-and-a-half year old daughter told me that she would like to cook more dinners (by herself) this summer. I told her that she could, but she had to plan ahead, and pick out some recipes so that we could shop and be prepared. Children's cookbooks are great, because they have recipes that can be prepared with a minimum amount of adult supervision with great pictures so that she knows what it's supposed to look like.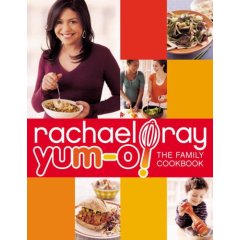 If she's armed with a good step-by-step cookbook, the right ingredients, and a willing Mommy standing by, she does a pretty good job of putting a meal together.
Yum-O: The Family Cookbook is Rachael Ray's newest cookbook. This book has so many positive features:
As Rachael Ray says in the introduction, one goal of the book is to "make eating healthier as a family easier, more affordable, and fun." I tested out a recipe for Penne-Wise Pumpkin Pasta which uses canned pumpkin and whole grain pasta. My family didn't love it, but they ate it, and it was an easy and healthy recipe. I might tweak it and try it again soon.
Each recipe has a sidebar which guides you towards how "The Itty-Bitties" can help (by beating eggs, squeezing spinach dry, mixing dry ingredients etc.), which can encourage you to let even the youngest of children join you preparing dinner.
One section is devoted to "rollover dinners" which allow you to cook once and eat twice (or more) with some quick variations.
Other sections are devoted to breakfasts and lunches and snacks, which are helpful in trying to break out of the same old menus that could be replaced with better alternatives.
More Ways To Get Cooking with Your Kids
Here are some recipe ideas and inspiration to help you cook with your children…