This post may contain affiliate links. Read my disclosure policy here.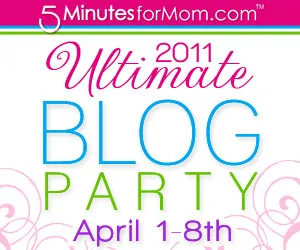 The Ultimate Blog Party 2011 has been rocking all week… and it's almost time to start handing out PRIZES!!!
Awarding and announcing the 250+ prizes listed on the UBP Prize Page is going to take a few days… so we're going to need to ask for a little patience.
But as well as all those prizes listed on the UBP Prize Page, we also are awarding…
A $100 Visa Gift Card to one Random Winner from each Linky List — That means NINE Winners!
These Cash Gift Cards have been graciously provided by the Feature Prize Sponsors listed below.
And…
TWO Random Winners drawn from the COMMENTS SECTION will win a $100 Land's End Gift Card.
We will assign and announce these featured prize winners as soon as possible after the contest entries close at midnight Eastern Friday April 8th 2011.
How To WIN…
You have FIVE ways to enter for various prizes…
You've got until MIDNIGHT Eastern Friday, April 8th, 2011 to enter to win.
Send Some Follow and Like Love Their Way…
Please help us thank our Feature Prize Sponsors…
Kristie from Saving Dollars and Sense
Follow Kristie @sawickis – Like Saving Dollars and Sense
Jody from Mommy Moment
Follow Jody @mommymomentblog – Like Mommy Moment
Lesa from Bear Haven Boutique
Follow Lesa @ilovebearhaven – Like Bear Haven Boutique
Abbey from Living My MoMent
Follow Abbey @LivingMyMoMent – Like LivingMyMoMent
Wendy from Kiboomu
Follow Wendy @kiboomu – Like Kiboomu
Jen from Pipsqueak Boutique
Follow Jen @jenkirkpatrick
Sarah from Home Based Working Moms and www.SarahCampbellOnline.com
Follow Sarah @_Sarah_Campbell – Like HBWMoms
Emily from ColoradoMoms.com
Follow Emily @ColoradoMom – Like ColoradoMoms
Joan from Pedal Cars and Retro and A Rocking Horse To Love
Follow Joan @TheToyExperts and Like Pedal Cars and Retro and A Rocking Horse To Love
Follow UBP Sponsors on Twitter
We sincerely thank the above feature prize sponsors, as well as our #UBP11 Twitter Party prize sponsors, #UBP11 MomTV Live Webcast sponsors and all the prize sponsors listed on our Ultimate Blog Party prize page.
We have created a Twitter List for all our prize sponsors. We're adding all prize sponsors to this list, if we have missed your twitter profile on the list, please let us know.
Please follow this Twitter List http://twitter.com/5minutesformom/ubp-prize-sponsors.
Remember, you've only got until MIDNIGHT Eastern Friday, April 8th, 2011 to enter to win.