This post may contain affiliate links. Read my disclosure policy here.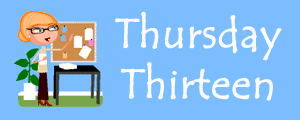 Banner by Chaotic Home
School starts next week. And while I enjoy fall, I will miss summer.
13 Things I am Going to Miss About Summer
Fresh fruit – We have amazing berries and peaches available in our area. I am indulging in some right now – smothered in Cool Whip Light of course!
Warm summer evenings – We don't get too many weeks of it being really hot. It is usually quite pleasant here, especially in the evening.
Watching Jackson learn to ride a bike – Jackson went from having ridden his bike only once with training wheels, to becoming a confident, two-wheeling fanatic in a couple of short weeks. He has basically been on his bike for a month and a half straight! It will be so sad when the rain starts (and boy does it rain here!) and he won't be able to ride as much.
Watching Jackson learn to ride a horse – When he was two and a half, Jackson first rode a horse. (We actually went on quite a trail ride considering he was two!) This week he is going to horse day camp and he loves it!
Flip Flops – I can't bear to go back to shoes and socks – ugh!
Crocs for Jackson – I only wish I had bought myself some too. (But I am quite addicted to flip flops.) Crocs are the greatest footwear for kids in the whole world. Sun, rain, mud, dirt, sand – and then just rinse them off at the end of the day. And as Jackson pointed out the first day he put them on, "I can kick a soccer ball in them!" It took me a while to get on the bandwagon – but yes I am now fully converted to the wisdom of Crocs – and so is Jackson! He has worn them every day all summer.
Shorts and t-shirts – I love the simplicity of summer clothes. No jackets and sweaters to bother with and less laundry to do
Summer camp – it is only one week of the year, but what a highlight it is. This year was great, despite the rain we had.
Going to our cabin – when I was a kid I hated going to our cabin because it is a six hour drive. But my parents would say, "One day you are going to beg to borrow this cabin to bring your family." "No way – I will never!" I would insist. Oops – I guess I was wrong. My husband and I are so grateful to have access to such a beautiful place for family vacations and Jackson loves it there.
Long days and after dinner walks – I love daylight savings!
Playing outside all day long – except on those really hot days when we sought refuge inside.
Less colds and flu – we have had a pretty healthy summer, except poor little Julia is so sick today with a fever and what seems to be a very bad cold. (Susan had to take her tonight to the hospital to get checked because she is so lethargic and out of sorts. It seems to be a virus and hopefully she will be better soon.)
Fun– Summer is just so much fun! It has been wonderful and I will always remember this as a great summer as I watched my sweet son and my beautiful niece live their little lives to the fullest.
Get the Thursday Thirteen code here!
The purpose of the meme is to get to know everyone who participates a little bit better every Thursday. Visiting fellow Thirteeners is encouraged! If you participate, leave the link to your Thirteen in others comments. It's easy, and fun! Be sure to update your Thirteen with links that are left for you, as well! I will link to everyone who participates and leaves a link to their 13 things. Trackbacks, pings, comment links accepted!
View More Thursday Thirteen Participants