This post may contain affiliate links. Read my disclosure policy here.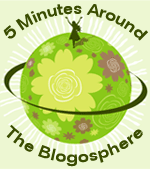 ANNOUNCEMENTS
Stop by and vote for your favorite blogs (or see if you've been nominated) in the 2008 Bloggy Hoss Elections at An Island Life!
Pampering You is inviting everyone to join her for Fingerprint Fridays where bloggers share their interpretation of God's fingerprints they've seen that week.
Christine of From Dates to Diapers, and Beyond is hosting a Father's Day Giveaway daily from June 9th – 13th. Stop by and check out all the great things you can win!
Notes From My Nest has devised a way for you to earn extra entries into her fabulous giveaways. It's called the Street Team and membeship is limited so hurry on over and sign-up!
Mommy Daddy Blog is holding a "Celebration of Daddyhood" Giveaway from now until June 15th. Stop by to win some great prizes for that special man in your life.
BLOG GIVEAWAYS
For Everyone
Just for Women
Just for Kids
Baby Essentials
Home & Kitchen
Books for GrownUps
COOL WEBSITES
Drive Smarter Challenge – This campaign aims to help consumers cut gasoline costs through efficient driving tips and practices by encouraging them to take from one to six actions that will produce measurable reductions in gas, money, and CO2 emission. A calculator on the site computes not only an individual's savings through her or his individual actions, but also computes a running tally of savings by everyone who has taken the challenge. It demonstrates the impact of one person's actions multiplied by similar fuel-efficiency actions of family members, friends, and colleagues of all the people who share the tips and challenge others to participate. Once taking the challenge, the site also delivers money-saving coupons for fuel-efficient products.
GREAT DEALS
Mom Laughs is offering a free download of their ebook – "I'm Thankful I'm on Planet Mom: 99 Reasons to Treasure Being a Mom"
If you would like to have a post on your blog featured in 5 Minutes Around The Blogosphere, please send us an email with the actual link to your post at features5minutesformom at gmail dot com and we'll see if it can be arranged.Kailani can be found at An Island Life, An Island Review, & Island Baby Boutique.