This post may contain affiliate links. Read my disclosure policy here.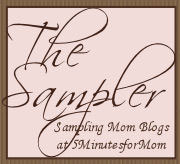 5 Minutes for Mom brings you exclusive samplings from the best mom blogs in our weekly column, The Sampler, hosted by 5 Minutes for Mom contributing editor Shera, from A Frog In My Soup.
As a mom of many children I saw myself perfectly mirrored in the submission I am featuring today! You see, I'm pretty sure that Katie Ebel can relate to my life in many ways … she is the mom of 5 children ages 6 and under.
Katie married her high school sweetheart to navigate the adventures of life with, he's a Seargent in the Army National Guard, Youth Pastor, and full timer in the corporate world. Katie enjoys learning along with the kids as they homeschool, cloth diapering, trying desperately to grow more than one scrawny tomato plant in her garden, t-ball games and ballet recitals.
You can find her at her blog, Musings of a Mamma of Many (M.o.M) at http://mammaofmany.blogspot.com. There she writes about all the happenings that go on for a M.o.M., and the little things that flutter in and out of her mind to keep the inspiration going for running a house of littles. So be sure to grab a cup of coffee and visit her sometime soon!
The Mom Who Does It All
Let's face it, none of us like to be the haggard mom. She looks like she hasn't successfully put together an outfit in a decade, juggling more than she can handle, about to sit down in the middle of Target and have a good cry.
How about angry mom? We desperately don't want to be her. We suck in our breath, so not to blurt out our frustrations, and simultaneously whisper "We'll talk about it in the car!!" Then calculate the quickest way out without being noticed. We don't want to be the angry mom who lets it loose at the worst possible moment when all eyes seem to be on her.
I think we've all wrinkled our noses at blissfully ignorant mom. She is so absorbed in what she's doing or who she's talking to that she seems to have forgotten her children exist. They tear down the aisles, run underfoot, shout and knock things over. Sometimes when we catch ourselves becoming too deeply absorbed in something we quickly turn to take inventory of the children and what they're doing with sudden panic to not be her.
The mom who does it all… now her we envy. Somehow she must have more time in her day or need less sleep, or have a secret housekeeper, or something! There's some secret she knows that the rest of us don't!
I have found that the more children I have the more I am likely to slip into being one of the first three moms. In my desperation to not be them… I'm quickly ushered into being the mom who does it all. After all, if you have so many children and don't look haggard, angry, or blissfully ignorant.. you are perfect now, aren't you?
In the transition of being a mom of one to the mom of four, we just kept adjusting as necessary. But number five … sweet, little, happy, round-cheeked number five … who is all sunshine and giggles …. she has thrown a wrench into things.
I cannot keep up with laundry. When did the children last have baths? Is that a moldy apple under there? Pray our visitors are late so I can wipe the eggs off the floor and then calm the hungry baby – was that a car door early!?!????
Two and a half months late for dental cleanings.. maybe I can just skip it and the next appointment can have extra fluoride. I've been stepping over the same sticky spot on the kitchen floor for a week, saying I'll mop when the children sleep.. Only to curl up with a blanket watching Chocolat – nurturing my soul so I can face tomorrow's chaos.
How about showing up to a party, and your child removes her shoes to show she's wearing mismatched socks? That's the last straw! How does one do it all?
The truth is.. no one does. What is "it all" anyway? I finally understand that "it all" is: the exact combination of weaknesses of the one who is imposing the image of "doing it all" onto you. After all – did you claim to do it all? Because I make it out of the house and back doesn't mean I do "it all." So here are my suggestions for how to look like you are the mom who "does it all" without losing your cool!
Decide what is most important to you anyway, and don't let anyone or anything interfere with that. Any thing, you wonder? Why yes. If reading to your children every day is most important and you can't do that and wash the windows…. then don't let the windows interfere. Don't let anyone interfere? Well that really doesn't need any explanation now, does it? The happiest moment of my life was when I realized I didn't need to be the mom everyone else expected me to be. I needed to be the mom that came from being myself.
Once you can let go of the expectation, you can let go of the stress.
Small routines are what help hold it all together. It's different for each family. I repeat "put your shoes on the rack!" when we walk in the door, so we know where all of our matching shoes are when we go to walk out the door.
Keep lipstick/lipgloss in your CAR somewhere handy, so you can throw some on before you get out at your destination. To spice it up, eyeliner too. NOT in your purse, which you will sometimes forget. Rub in a little lipstick on your cheeks as you would blush – I learned that one from my mother, she also had 5 children.
Besides the normal diaper bag items, mine also contains these 3 essentials – band aids, a Tide pen, and plastic grocery bag. Believe me, with those extra items you are prepared for almost anything the fates try throwing your way!
Matching shoes, lipstick, and an arsenal in your diaper bag? Who can top that? With that sort of confidence you can be sure to be admired. After all, you do it all don't you?
~ Written by Katie Ebel of Musings of a Mamma of Many (M.o.M).
If you would like to be considered for The Sampler please review The Sampler Guidelines.
This column is Hosted by Shera. She can be found at A Frog In My Soup