This post may contain affiliate links. Read my disclosure policy here.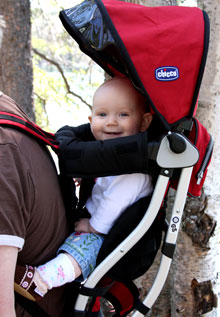 Can you tell Olivia is more than happy to take a ride in her Chicco Smart Support Backpack? The minute we slip her into it, she breaks out into smiles and kicks her little feet with excitement.
Since Olivia doesn't like to miss out on anything, she is thrilled to be hoisted into the air and watch the action from her perch on Daddy's back!
My husband, who for some strange reason resists wearing wraps or slings, prefers to carry our kids in a backpack.
When Jackson was three, Phil borrowed our friend's backpack and hiked up Diamond Head on Oahu with Jackson on his back. So when I saw Chicco makes a very affordable backpack carrier, I thought it would be great to try out so Olivia can have a turn to go hiking with Daddy.
But Olivia loves it so much, Phil even puts her in the Smart Support Backpack to tote her around while he does chores! If she is fussy or bored, he buckles her into the Smart Support and she is good to go!
We brought the Smart Support up to my family's cabin last month and Olivia got to be the test baby while I got Phil and our friends, Crystal and Sean, to all give me their opinion on the Chicco Smart Support Backpack. Olivia thought it was wonderful to get to ride all afternoon while each one of them took a turn carrying her. (Sean is carrying Olivia in this picture.)
So what did our test group think of the Chicco Smart Support Backpack?
Everyone agreed that it was a good, lightweight carrier that was super easy and convenient to use.
The light aluminum frame opens up to form a stable stand for easily loading and unloading your child. This freestanding feature enables the wearer to safely load and unload baby without any help.
The sun shield, quick zip ventilated rain guard, fanny pack and cell phone case are all great features too.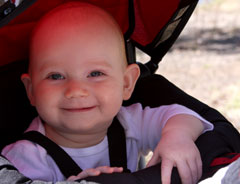 The height-adjustable seat supports the child as they grow and appears comfortable – Olivia has no complaints. I also like that the the straps hold her in securely.
Our three adult testers found it reasonably comfortable. They thought some improvements could be made with the straps. Phil, Sean and Crystal all vary in size and each one thought the small strap that goes across the chest would be more useful if it were adjustable and could slide up and down since they all had a different preference for where they wanted it. As well, they thought that the lumbar support could be improved if it were slightly lower and gave more support.
The general consensus was that for the price, this was a good backpack carrier with nice features that children between 6-36 months will love!
Product Features

Three-position, height-adjustable seat to support your child as they grow
Lightweight, aluminum frame, weighs only 6.5 lbs!
Padded straps and energy-absorbing lumbar padding to keep you cool and comfortable
Zip-quick weather shield to protect your baby from the weather
Freestanding and stable to make loading and unloading virtually effortless
Flat-fold to make storing and transporting easy

The Smart Support is for children between 6-36 months and up to 40 pounds.
If you've got a little one who'd like to ride around on your back, leave us a comment and let us know. Also, please link back to this post to share the fun with your friends. (Non-bloggers are still welcome to enter, we understand you can't link back, just tell a few friends instead.)
We'll draw a random winner on Thursday, June 26th.
This giveaway is open to US and Canadian shipping addresses.