This post may contain affiliate links. Read my disclosure policy here.
We have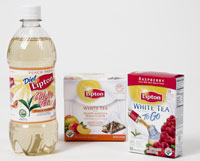 a winner in our Lipton sponsored Fuji bike contest.
#916 Michelle is going to be zipping around this summer on her new bike, which also comes with $75 to be able to get it professionally assembled (which would really help me out because otherwise it might sit in the box throughout the summer).
She'll also receive 5 coupons for Lipton White Tea.
I love tea, and I find light fruit teas to be one of the most refreshing summertime drinks.
Drink up to summer!