This post may contain affiliate links. Read my disclosure policy here.

Project to Tackle: The Pantry
I started out with energy and enthusiasm. I was refreshed after a nap and ready to tackle my pantry. Cheerfully I pulled each item out, searched for best before dates and piled accordingly. "This isn't so bad," I thought, "Why didn't I do this project years ago?" (And I seriously mean years. I hadn't cleaned it out since Jackson was born. I had canned goods that expired in 2002 in there!)
But after getting it all emptied out, I had to leave the task and tend to dinner and bedtime routines. By the time I made my way back to my kitchen — which was now covered in my dated pantry goods — I was a much wearier, worn out worker. The project was no longer as much fun.
So, now at 11 pm I have to concede that this tackle will have to be completed Tuesday morning.
I am a night person – usually increasing in energy and resolve after 8 pm, but not the last few nights. I have had to give in and go to bed by 11 pm before I fit in all my usual blogging time. (By the way, please forgive me if I haven't been to your blog – these last few days I am so behind on my blog visiting. Please have mercy on me – my hubby has been away for over a week and I am really missing the extra help!)
So here it is, half done – but I promise it will be tackled Tuesday!
Here is my crazy pantry before. (Note: there is a serious danger in a having a huge pantry with deep shelves. Food gets lost in there and never gets used! I will have to be much better in the future of keeping the food actively used.)
The Pantry — Before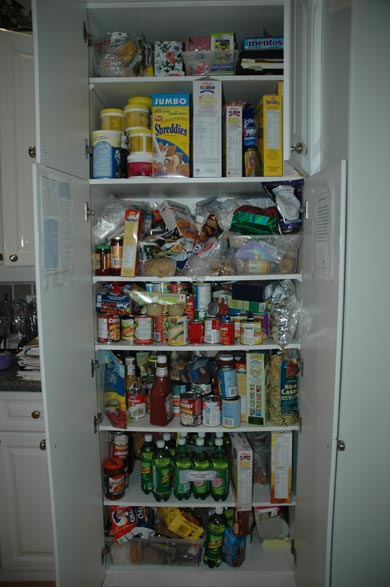 And here is some of the food that came out. My counters are covered as well. Most of this food on the floor is old and needs to be thrown out. It is sad to see how much money we wasted due to disorganization.
The Pantry — In Progress — Part of the Contents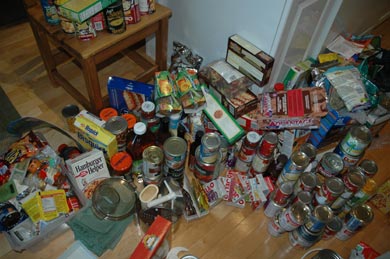 And coming soon… my transformed pantry!
Good night – see you soon.
————
UPDATE
————
Okay… I'm back!
After a good sleep, I was able to regroup and finish my tackle.
Here it is:
The Pantry — After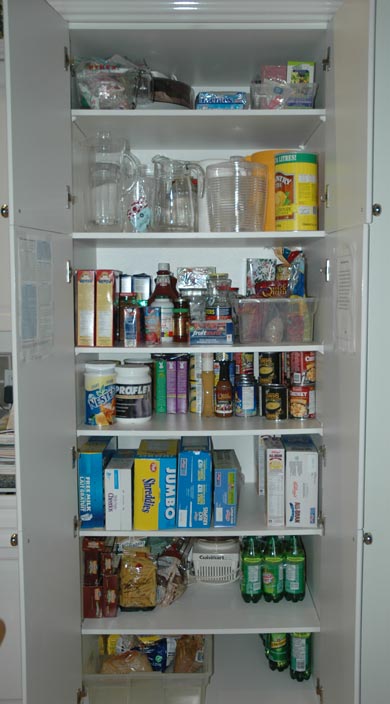 ————–
So what did you tackle this week?
Come on – you know you want to show off! And if you haven't tackled yet – no worries – show us your before picture and then get tackling! We will cheer you on!
Please Note: I tend to do my visiting from the comment links, not the Mr. Linky. So please leave a comment when you add your name to the Linky, so that I don't miss you. (The reason I use the comment links is that some visitors are not participating in Tackle It Tuesday, but I still drop by and visit their blog. In past weeks I have tried to go through both lists, but I just want to give you the heads up that if you aren't in the comments, I might miss your place by accident.)
Join Us For Tackle It Tuesday

We're making housework blog-able!

Each week on Tuesday, we are posting before and after pictures of a project or trouble area that we tackled this week.

I will link to any of you who are also playing along, so add a comment and/or email me. Find out more about Tackle It Tuesday here.

The project can be little or big – whatever you want. Basically, Tackle It Tuesday is about giving ourselves incentive, deadlines and satisfaction in getting our household tasks done.