This post may contain affiliate links. Read my disclosure policy here.
(Okay — well — I mean what activities. I don't mean that!) 😉
So, today is my 14th wedding anniversary! (Which means I got married VERY young, ok???)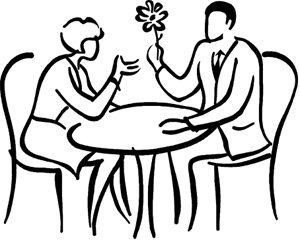 I am thrilled to be celebrating fourteen years with my wonderful hubby — who has sacrificed MANY date nights for this website!
My mother-in-law is coming over to babysit and we are going OUT!
What to do???
But what should we do? Where should we go?
I have to admit something: My favorite thing to do on our date nights is to go to dinner and a movie. I know — so unoriginal and boring. But I LOVE going to the movies and I rarely indulge unless it is date night.
When I asked my hubby if we could go to a movie, he rolled his eyes and said, "Well I am not seeing another Black Swan!" lol
So, tell me please, what do YOU like to do on date nights with your spouse? (Given a reasonable budget, of course!)
Written by mom blogger, Janice Croze, co-founder of 5 Minutes for Mom.
Talk with me: @5minutesformom and Facebook.com/5minutesformom.