This post may contain affiliate links. Read my disclosure policy here.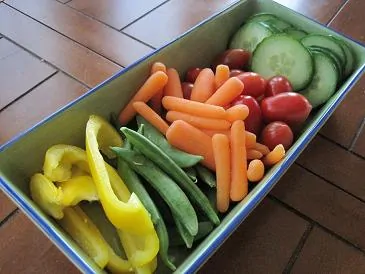 The Very Hungry Caterpillar by Eric Carle is a book that should be in every young child's library. I particularly like the board book version because I love the sturdiness and "play value" of board books, and just have a thing for them in general for toddlers and preschoolers especially.
If you aren't familiar with the story (get thee to a library or bookstore now!), the caterpillar begins his day by chewing through one leaf.
Then he works his way through many other things — ice cream, salami, pears — leaving a real hole in the book as you turn the page. This binge leads to a tummy ache, and so he finishes off the day with another nibble from a healthy leaf, and then he uses all that fuel to do what caterpillars are meant to do as he transforms to a beautiful butterfly.
Food is fuel.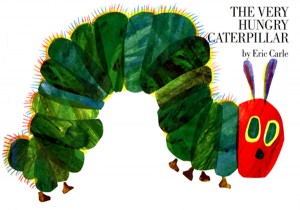 We don't have to make every time we sit down with books a learning opportunity, but having stories like this in our children's frame of reference are helpful in discussing healthy eating habits with them when they are looking for an after school snack. Food is fuel, and no one likes to get a tummy ache, so maybe seeing the illustration unfold through Eric Carle's bright and beautiful collage art can help them see the results of their choices.
The Alliance for a Healthier Generation has teamed up with the American Academy of Pediatrics in an Eating Healthy, Growing Strong campaign, in which specially-created versions of The Very Hungry Caterpillar
Caterpillars might not eat Ranch, but kids do.
I don't know if a little Hidden Valley Ranch dressing might have enticed that caterpillar to sit down to a bowlful of baby carrots instead of binging on everything else in sight, but it does tend to work that way with kids. Kids love to dip and most of them like the taste of ranch dressing too. Research has shown that kids eat more vegetables when paired with Ranch dressing, and I know that has played out here in my home as well. One day my 6-year-old son, 12-year-old daughter and I were sitting on the front porch together and we had one of the Hidden Valley Ranch cups of light Ranch dressing out with our carrots. Though we all like baby carrots, I know that we ate a lot more of those vitamin-rich carrots with a little dip.
You might think that adding fat to a healthy vegetable is not wise, but did you know that fat actually helps your body absorb vitamins?
Additionally, since our stomachs got full of the carrots, we didn't end up doing like that little caterpillar did and work our way through the fridge, freezer, and pantry.
Do you have any tips that work in getting YOUR kids to eat their veggies? Let's talk about it!

Disclosure: I am a sponsored member of the Hidden Valley Ranch Love Your Veggies Mom Panel. As always, my opinions are my own.
Original post by 5 Minutes for Mom contributor and 5 Minutes for Books managing editor Jennifer Donovan