This post may contain affiliate links. Read my disclosure policy here.
About two months before her third birthday, the "why's" began.
Long, recursive chains of "why?"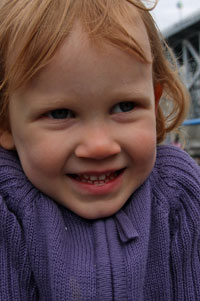 I'd heard about the "why's", but I'd never experienced first hand the phenomenon of a small child's endless pursuit to discover why our world operates as it does.
Julia is determined to find out why everything happens.
It is adorable and I do often smile as I attempt to answer each question, but there are many times when I don't feel like playing along.
Thinking to myself that there was a simple solution, one time when she asked "Why?", I said, "I'm not sure. What do you think?"
But, clearly I was not to be outsmarted by this three-year-old.
"No, you think!" Julia replied.
I held back a laugh. I wasn't going to get out of this very easily. I was so surprised by her response that I can't remember what I said… I probably just went back to attempting to answer her question.
And so the "why's" continue and I still do try the "What do you think?" routine, but Julia's standard response is "No, you think!"
What about your preschoolers? Do they (or did they) drive you wild with "why's"?