This post may contain affiliate links. Read my disclosure policy here.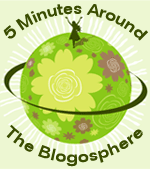 ANNOUNCEMENTS
Stop by An Island Life and nominate your favorite blogs in the 2008 Bloggy Hoss Elections!
The Chick Adventures is looking for the next Bloggy Chick interested in posting on their site at least once a week about a topic that you're passionate about such as baby, fashion, beauty, health or anything you think our readers would be interested in. Stop by their site before June 3rd for more info.
Hybrid Mom is seeking moms who are great writers, can drive online discussions, and who are looking for an opportunity to be a part of an exciting team and emerging company. They require two posts per week and leave all content and publishing up to you! Topic choice is wide open as a long as it pertains in some way to women and mothers.
June 1st kicks off the 2008 hurricane season. Are you prepared? Hurricanes can threaten your health and safety in several ways — storm surges, high winds, tornadoes, and flooding — and knowing your risks before, during and after a storm, and what actions you should take will help you reduce the effects of a hurricane disaster. For more info, stop by the Centers for Disease Control and Prevention site.
This week's blog blast sponsored by the Parent Bloggers Network and America's Worst Cook is giving away an omelet cooking pack, $100 AMEX gift card, & an eco-friendly "I Heart Eggs" bags to carry everything in. To enter, just publish a post on your blog describing your worst cooking disaster and send the url to parentbloggers at gmail dot com between June 6th till the 8th.
CONTESTS & SWEEPSTAKES
How would you like to see your child's face on Balloon Time packages? From now until March 15, 2009, you can enter a photo of your adorable children in the Put a Face on Fun Contest. It's open to U.S. residents ages 3 – 11. Each photograph will be scored by a panel of judges based on the following criteria: smile, age appropriateness, expression of fun and suitability for appearing on packaging. For a list of official rules, visit PutAFaceOnFun.com.
From now through June 1, you can submit a photo of your pet on Dogster.com or Catster.com for a chance to win a photo shoot of your pet, a framed print, your pet's image online and a supply of pet care products.
On Tuesday, June 3rd at 9AM, Associated Content is hosting a one-day-only contest. $5,000 is up for grabs for the best entry (article, video or audio clip) on "What's Next for 2009". It can be a person, a place, a thing, a gadget, a fashion trend — anything moms who love to write think will be the next big thing. Stop by here for more info.
How would you like to go on a multi-generational trip, while being filmed for an online reality show? Grandparents.com is looking for families with at least one grandparent & one grandchild to enter their Grandest Adventures contest. The winner and his or her family will spend August 27 to September 3 cruising from Alaska to Vancouver, B.C., aboard a Regent Seven Seas cruise. Deadline to enter is June 30th.
BLOG GIVEAWAYS
WORTHY CAUSES
Sweet Pea Cakes is participating in Lemonade Days with Alex's Lemonade Stand Foundation on Friday June 6th and June 7th. If you are in Colorado you can stop by their lemonade stand to make a donation or you can donate on line to help find a cure for childhood cancer.
The Hershey's Tour de Pink is a bike ride benefitting the Young Survival Coalition, the premier non-profit network of breast cancer survivors and supporters dedicated to the issues unique to young women and breast cancer. It's a four-day bike ride from Hershey, Pa. to New York City, taking place October 3-6 during Breast Cancer Awareness Month. For you busy readers who would like to get involved but can't make it to the East Coast, the Hershey's Tour de Pink Virtual Ride invites people to show their support in their own community. The Virtual Ride challenges riders to pedal 220 miles from now until October 6 (whether on a stationary bike, quick rides through the neighborhood or even a bicycle built for two), and host their own YSC fundraising effort.
If you would like to have a post on your blog featured in 5 Minutes Around The Blogosphere, please send us an email with the actual link to your post at features5minutesformom at gmail dot com and we'll see if it can be arranged.
Kailani can be found at An Island Life, An Island Review, & Island Baby Boutique.