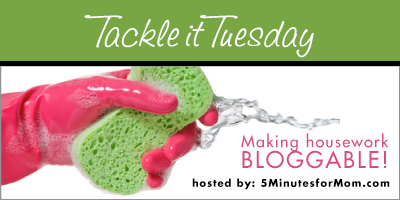 Tackle Fail!
Janice is still away at Disney for a few extra days in the parks with her kids after the Disney Social Media Celebration.
And I should have had a tackle here to show you all…
But I don't.
I have so much to tackle housework-wise, but it's left untackled.
I have so many emails unanswered. Posts unwritten.
Life has been too busy. And sadly, tonight much will remain untackled.
What about you? Do you have a tackle to share? Or can you relate to my feeling of failure and overwhelm?
What are you tackling this week? Link up your Tackle it Tuesday post…
Tell us what you're up to with all your other tackles… housework and otherwise… add your link to your tackle in the Linky below!
We are making housework bloggable — Each week on Tuesday, we are posting before and after pictures of a project or trouble area that we tackled this week.

Find out more about Tackle It Tuesday here.
The project can be little or big – whatever you want.

Basically, Tackle It Tuesday is about giving ourselves incentive, deadlines and satisfaction in getting our household tasks done.

(It doesn't even have to be housework… just whatever is on your To Do list.)
If you tackled a project this week, just add a comment and add your link below.
Here is a fun thumbnail linky:
And here is a basic linky if you prefer your linkies the good old fashioned way!
Written by Susan Carraretto, co-founder of the Mom Blog 5 Minutes for Mom.
Talk with me: @5minutesformom and Facebook.com/5minutesformom.