This post may contain affiliate links. Read my disclosure policy here.
When Susan and I were kids, we dreaded family trips to our cabin. The drive took six long hours — which included two hours where the road snaked along a steep canyon. Doped up with anti-nauseants and praying that we didn't fall off the side of the mountain, we would close our eyes and wait for the torture to end.
Once we arrived at the cabin, things didn't get much better. We were roughing it — outhouse, no running water, no electricity and plenty of spiders hiding under the bed. And for entertainment we had to go fishing! (We did negotiate Oh Henry Bars, ketchup potato chips and orange pop to keep us nourished in the boat. But the fear of a full bladder while stuck in the middle of a vast body of water with an addicted fisherman father soured the treats.)
I will admit, we did have fun playing in the woods and the lake, but we always swore that at any second we would have traded those moments for a ticket home. Our older brother David and our older sister Carolyn complained too, but I don't remember them being as dramatic in their demonstrations over the torture.
Although my parents insisted that the scenery was gorgeous and we were so lucky to be in such a peaceful place, the beauty was lost on us.
For many other kids, I am sure the cabin would have been a welcome experience. But Susan and I are wimps and having to visit an outhouse in the middle of the night, with only a flashlight and a prayer to protect from bugs and bears was enough to take the fun out of it for us.
We begged our parents to sell the cabin. One time it even seemed like we were going to be set free. My parents had a buyer. The deal was almost made. But at the last second, the buyer pulled out and so on long weekends and summer vacations we kids were continually subjected to "the cabin."
Over the years, my Dad would always say, "One day you will have kids of your own and you will BEG us to let you use the cabin for your family vacations."
Horrified at such an idea, we would argue that we'd never do that to our kids.
But as parents usually are, my Dad was right.
Well partially…
Now, every chance we get, my husband and I pack up our kids and head up to my parent's cabin.
(Susan, however, has only been to the cabin once in the last twenty years. And she has NEVER been there since the renovations brought us in-house plumbing. The long drive has still kept her away… which is a bonus for my family, since we don't have to share it with hers. Carolyn takes her family once a year, and since David lives a 5 hour airplane ride away, he gets there only once every few years. So my husband and our little family are very lucky to have the cabin to ourselves almost every long weekend.)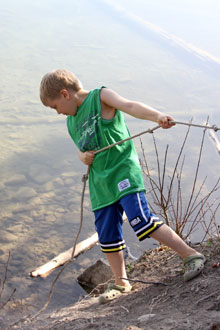 Unlike me at his age, Jackson loves to go to the cabin. Of course his experience is a lot different than mine was. The drive isn't bad at all for Jackson. He has a stomach of steel like his dad, the highway is greatly improved and he gets to watch DVDs to make the time go by. And when he arrives at the cabin, there is a fully renovated little house with electricity, running water, and a real toilet! He can even play on the computer and watch movies!
There's no old-fashioned suffering now. I would have given up a lifetime's worth of Oh Henry bars for movies and hot showers when I was growing up.
Sadly, my Dad passed away several years ago, before any of his grandchildren were born. He never had the thrill of introducing his grandkids to his favorite spot in the world. He never got to load them up with junk food and teach them how to fish.
But looking back, I now appreciate the cabin and the family memories we created there. (Despite the rough conditions, I suppose we kids did have lots of fun. Staying up late playing UNO and Monopoly then waking up to blueberry pancakes and those little cereal boxes that you cut open and eat out of like a bowl.)
Now I love going to the cabin! I am old enough to appreciate the beauty and the isolation. And with all the luxurious additions to our "wilderness" experience, I don't have to suffer at all. Ladies, once we get a phone connection and wireless, I will want to stay up there for weeks at a time.
"Becoming" our parents is bizarre isn't it? Some of the very things that I resented my dad for — the cabin and his obsession with taking thousands of photos of us — are now some of my favorite things. What my dad would say if he could see me buckling up my son's life-jacket to send him out fishing with his father and taking a hundred pictures of it all.
Yes, this apple is right under the tree.
Here are some of my favorite shots from our trip last weekend.