This post may contain affiliate links. Read my disclosure policy here.


Emergency can strike at any time, catching us off guard and putting us in immediate survival mode.
While volunteering with the American Red Cross, Amy Sandoz saw firsthand how difficult it was for busy families to prepare for emergencies. To aid families in emergency preparation, Amy launched Ready Set Go Kits, providing ready-made emergency survival kits and assorted disaster supplies.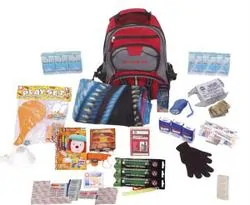 I received the Emergency Kit for Kids to review, and having it in my vehicle gave me a sense of security, especially while driving in some harsh winter storms. I knew that if my car broke down, I would have emergency supplies within reach.
I am very impressed by the quality and durability of the Emergency Kit for Kids. I also appreciate how well it is organized and the fact that there is still plenty of room to add additional supplies and toys.
The Emergency Kits for Kids is just one of the many available kits for sale at Ready Set Go Kits. It comes packed in a child-sized backpack and is designed to meet the needs of a child 11 years old and younger.
Each kit contains the emergency supplies for a child during the first 72 hours of a disaster and space for your child to pack items that are important to him/her.
6 Boxes of Aqua Blox Water Boxes – 5 year shelf life
6 – 400 Calorie Food Bars (2400 Calories) – 5 year shelf life
10 Water Purification Tablets – each tablet purifies 1 liter of water
Rechargeable Squeeze Flashlight – 3 LED flashlight
3 – 12 Hour Green Emergency Glow Sticks
5-in-1 Survival Whistle
Polar Fleece Blanket
16-20 Hour Body Warmer
Emergency Poncho for Children
Warm Winter Gloves
N95 Respirator Dust Mask – NIOSH approved
3 Pocket Tissue Packs
Hygiene Kit
36 Piece Portable First Aid Kit
Activity Coloring Book
Children's Toys
The survival kit was designed using advice from experts in the emergency preparedness industry. It follows guidelines given by government agencies and non-profit preparedness organizations.
Ready Set Go Kits offers emergency kits for home, car, kids, dogs, cats, schools and offices. They also offer disaster-specific emergency kits for earthquakes, hurricanes and tornadoes. You can also find a selection of emergency supplies.
Get Your Kit and Help Japan
In light of the terrible devastation in Japan, Ready Set Go Kits is doing their part to help the families of Japan recover. For every sale from now until the end of the month, Ready Set Go Kits will donate 10% of the proceeds to the Red Cross for Japanese disaster relief.
Win an Emergency Kit for Kids
We want to make sure one of you is prepared in the event of an emergency, by giving away an Emergency Kit for Kids.
Leave a comment below and you will be entered to win. Share the word about Ready Set Go Kits on Facebook or Twitter, and earn an additional entry. The giveaway is open to US shipping addresses only and will close on Friday, April 1st. We will announce our winner on Saturday, April 2nd. This giveaway is void where prohibited. Please see our site's terms and conditions.