This post may contain affiliate links. Read my disclosure policy here.
We had so much fun with our last photo contest, we have decided to make Photo Contests a regular part of 5 Minutes for Mom.
In this photo contest, sponsored by Nestlé Crunch and their "For The Kid In You" campaign, we are looking for photos that show off "The Kid In You."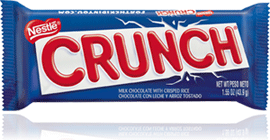 Peeling back the paper-thin foil and snapping off the first piece of a Nestlé Crunch can bring most of us right back to our childhood.
Nestlé Crunch bars were an especially rare treat for Susan and me. As Canadian kids growing up in the eighties, many of life's most important purchases, (Keds, Guess Jeans and Nestlé Crunch bars) were only available in the US. So we had to beg an adult to take us across the border so we could stock up. Nestlé Crunch bars were a valuable trading commodity in our household!
Do you have a Nestlé Crunch childhood memory – head over Nestlé Crunch on Facebook and share. And if you want to have fun playing games, hit the Nestlé Crunch Playground. You and your kids can have some free virtual fun!
So, in the spirit of childhood and all things good and carefree, we want to have some photo carnival fun!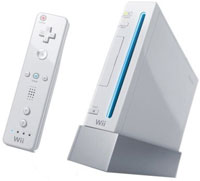 And to make this contest/carnival all the sweeter, we have got some ultra cool prizes to really bring out the kid in you (and in your kids!)
The Grand Prize: A Nintendo Wii
Second Prize: A piñata packed with Nestlé!
What brings out the spirit of being a kid better than Wii's and Nestlé-filled piñatas???
(I recently read an article in our city's newspaper about the local Rotary Club donating Wii's to eight senior care facilities. The seniors thrive with the chance to relive their youth and flex their muscles while jabbing, putting and batting. If our lucky winner already owns a Wii system, donating the prize to a senior center, or hospital would be a great way to spread the love of childhood!)

Here is how our "The Kid in You" photo contest/carnival will work:
For the next two weeks, we will accept entries. We are looking for photos that reveal the spirit of childhood – however you want to do that. Be creative. Have fun.
If you are a blogger, post your photo on your site and then come back here and add your link to the Mr. Linky. (In your post on your blog, you can explain that it is a part of this contest and link back here. Explaining your photo is totally optional. If it adds to it, write about it. If you would rather let the picture do all the talking, that is great too.)

If you are not a blogger – you can still play!!! Just email us your photo, with the subject line KID Photo Contest, to 5minutesformom @ gmail dot com. (Please add your image into the copy of the email so that we do not have to open attachments.)
If you are selected as a finalist, feel free to announce it on your blog, facebook, twitter, etc and get your friends to vote for you. That is fair game. But please play fair and do not use proxy servers or other black hat methods of increasing your votes. If we do discover unfair practices, we will have to disqualify the parties involved. Remember the spirit of our site and play nice!
Entry deadline is Monday, June 2nd, 12pm EST. We will announce the finalists on Tuesday, June3rd. Voting will end Monday, June 9th, 12pm EST.
This contest is only open to US residents, and please enter only one of your best photos. (So sorry Canadians, Aussies, etc! As Canadians, we feel your pain! However if you are not a US resident and thus not eligible for the prizes, you can still participate in the carnival fun. In our Motherhood Photo Contest we had an Aussie who participated on her blog and won an honorable mention with her fantastic photo. So join in anyway – don't miss out on the photo carnival fun–just be sure to state clearly in the entry that you are not eligible for the prize.)
Thank you to everyone who submitted photos.
There were so many wonderful pictures that it was terribly difficult to select just twenty finalists. But we hope you all agree that the final collection of twenty finalists portrays beautifully the 'kid' in all of us!
We hope you all have fun voting and watching to see how the votes get distributed.
Voting will end Monday, June 9th, 12pm EST.