This post may contain affiliate links. Read my disclosure policy here.

I am drooling over purses. But can you blame me? Look at these fabulous spring/summer colors of The SAK Signature Collection!They are so fun.
I am especially partial to the pink, (but can you tell from our site that Sue and I are fond of pink?)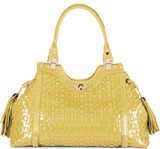 I thought I would give you a glimpse of them in case your family is looking for last minutes gift ideas for you (or if you are looking for last minutes gift ideas for yourself!) If you are looking for a great purse at a low price, The SAK has a great Mother's Day Sale of purses at really reasonable prices. Check it out.
I also love the whole yellow idea too… sunshine in a purse. This way too gorgeous purse by Elliott Luca is definitely a dream Mother's Day gift! (I would LOVE to carry that this season. I think I would think up excuses to go out, just to show off that purse!)
Don't Forget – you have only a couple more hours to enter all our Mother's Day Giveaways – including a chance to win a SAK purse. Deadline is May 9th at 9pm EST. 🙂
UPDATED: Our deadline for the Mother's Day Giveaways has now past. Thanks for entering.
If you are in love with one of these purses, check out The SAK and Elliott Luca. For fabulous purses under $60, don't miss the The SAK's great Mother's Day Sale.