This post may contain affiliate links. Read my disclosure policy here.
Hey ladies, this is Amber here.
I am a mom, which means that I don't have a lot of free time. And the free time I do have is usually spent doing things like picking up toys, wiping surfaces and doing load after load of laundry. It may not always be the most glamorous life, but it's mine and I love it. Every sticky, sticky minute of it.
All the same, I am always looking for ways to streamline my day. My idea is that if I spend less time doing the things I have to do, I can spend more time doing the things I actually want to do. Maybe I'll even find a little more balance in my life. A girl can dream, right?
This year, I've started a project to streamline one of the toughest parts of my day: dinner time. Or as I often call it, "everyone is crying o'clock". We may have just gotten home from a long day out. The kids are tired and hungry, and so am I. But on top of that, I have to cook something nutritious with whatever I happen to have on hand.
For the longest time, I spent at least 30 minutes every night opening and closing the fridge and freezer as I tried to decide what to make. Around me, the kids were whining and crying and fighting and asking for snacks, which I declined because I was about to make dinner. No, I didn't know what it would be. No, we don't have the stuff for macaroni and cheese. Hey, stop hitting your brother! Stop hitting your sister! Oh no, now you spilled a whole jug of juice!
Fun times.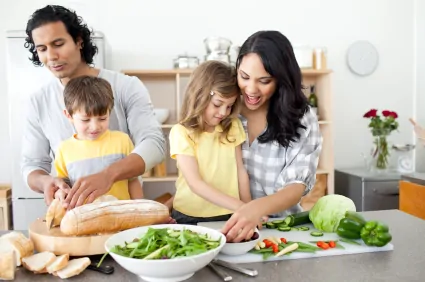 I toyed with the idea of making a meal plan, but I didn't think I had the time to do it. Eventually, though, I realized that if I spent 20 minutes making a meal plan and a shopping list, I would save 30 minutes every evening, and possibly a whole jug of juice. The light came on in my head, and I set up a system with my husband.
We have a Google spreadsheet that lists what we're having every night of the week, plus ingredients we need to buy for that meal. We also set up a shared shopping list which automatically appears on my iPhone using the Remember the Milk app. As I walk around the store, I can tick stuff off the list. I actually get the stuff we need, and I'm all set up for dinner with much less fuss and fighting than it used to take. Plus, there's less waste, because I'm not just buying whatever looks good and then not cooking all of it.
Of course, my meal plan system doesn't always work perfectly. There are small hiccups here and there, but on the whole my evenings much smoother since I started this project. I have successfully streamlined one area of my life, and it feels pretty good!
Now, I'd love to hear from you. Do you have a meal plan? Do you create it yourself, or do you use a meal planning service or software? Or do you have some other tricks for streamlining dinner prep? Weigh in with your comments!