This post may contain affiliate links. Read my disclosure policy here.
This morning we would like to share with you a post from our 5 Minutes for Special Needs sister site. It uplifted us with its gentle reminder. We hope that it does the same for you.
liver and onions……
by Heather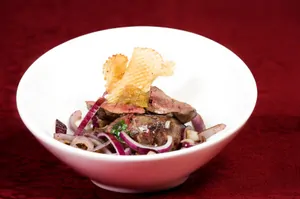 My life has drastically changed since Jack. Sure, I went through some heavy stuff post-diagnosis. My mental health went down the drain, I was pretty sure I hated all of the human race, and I was insanely jealous of people who had "typical" children.
As time went on, I learned—slowly—that the secret to my success was actually IN my "atypical" child! He made me better! He made me stronger. He strengthened our family in ways that I could have never imagined!
I hate liver and onions. I can't stand even the smell. Yet, my grandma would cook it for my dad, stink up the house, and he'd eat seven helpings. Did I complain? Yes, at first…but seeing how happy the stink made my dad? That made it worth smelling. For days (I might add)! See..I found my joy! Joy in the dish we were served…not in the dish we wish we had!
So, standing at the hospital…surrounded by these perfectly pink and blue bundles of love…I found joy. Joy in my infertility. Joy in my child who was not born of my womb. Joy in the future—for all of us.
Try the liver and onions…
Heather is a mom of two, wife, and nurse educator doing what she can to save the day daily! She lives in Savannah, GA, where she is routinely spotted pushing a blue wheelchair containing her her son with cerebral palsy at doctor's offices, therapy appointments, and her local grocery store.