This post may contain affiliate links. Read my disclosure policy here.
Vote NOW and you can decide who wins!
Today is the first day of our Mother's Day Giveaway and we are kicking it off with an incredible Mother's Day gift of $1,000 thanks to Egg Beaters.
Yes – you read that correctly – the prize is $1,000, awarded via an American Express gift card, to spend however you want – go shopping, take a trip, do whatever you want! It is all yours. Now, that is one fabulous Mother's Day gift!!!
Before we get into the details of how you can win all that cash, can I just gush a bit about Egg Beaters newest variety and why I am so excited about it (besides the fact that they are giving one of you a thousand bucks!)
My husband loves eggs -and I mean – he.really.loves.eggs. He eats them almost every day, no matter how often I try to tell him that I think he going a little overboard in the cholesterol dept.
When I told him that Egg Beaters now has a new version that is made from real eggs, but also has a touch of yolk to satisfy his eternal full-fat-yolk-cravings, he said, (and I quote,) "It has yolk in it? I am all over that!"
So, now he can eat his eggs and I can relax that, with 70% less fat and 75% less cholesterol than shell eggs, he is not killing himself. Thanks Egg Beaters – I appreciate that!
NOW, back to the money…
To make this contest as special as the prize, we decided to make it a Mother's Day Photo Contest. As you may have noticed, I love photography. So I thought it would be perfect for 5 Minutes for Mom to hold a photo contest. Not only will I be thrilled to get a chance to see all of your motherhood-inspired photos, but you all can get in on the fun and go see some of the other photo entries yourself.
This is how it will work:
For the next week, we will accept entries. We are looking for photos that tell some sort of story of what motherhood means to you. They could be shots of you with your kids, your kids, you own mother, whatever you want.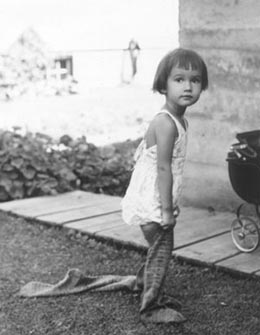 Here is a shot that is "Motherhood" to me. This is my Mom, Joan, when she was little. My mom is my hero. She loves and lives sacrificially for her children and grandchildren. I am the mother I am because of who she is.
I love looking at photos of my mother and grandmother. We mothers were all once babies ourselves, vulnerable and needing to be mothered and loved. I also love that Susan and my kids, especially Susan's daughter Julia, bear a lot of resemblance to "little Joan."
If you are a blogger, post your photo on your site and then come back here and add your link to the Mr. Linky. (In your post on your blog, you can explain that it is a part of this contest, link back here and, if you want, tell us a bit about your motherhood-inspired picture. Explaining your photo is totally optional. If it adds to it, write about it. If you would rather let the picture do all the talking, that is great too.)

If you are not a blogger – you can still play!!! Just email us your photo, with the subject line Photo Contest, to 5minutesformom @ gmail dot com. (Please add your image into the copy of the email so that we do not have to open attachments.)
If you are selected as a finalist, feel free to announce it on your blog, facebook, twitter, etc and get your friends to vote for you. That is fair game.
Voting will close May 9th at 9:00pm EST. We will announce the winner on Mothers Day May 11th.
Both Americans and Canadians are welcome to join this contest.