This post may contain affiliate links. Read my disclosure policy here.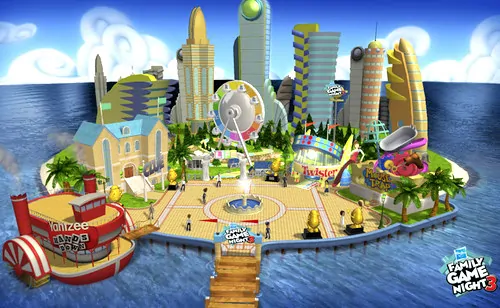 Gather around your Wii, PS3 or Xbox 360 with your family, for a whole new take on game night. With Hasbro Family Game Night 3, your gang can visit the Family Game Night theme park and play some of Hasbro's most beloved games.
Games contained in this release include: Clue, Twister, Mouse Trap, The Game of Life and Yahtzee Hands Down. You can play the classic version of each game, or add some additional entertainment with the remixed versions. Mr. Potato Head also joins in on the fun, playing tour guide through the island based theme park environment.
My children are 7, 4 and 2. When playing Hasbro Family Game Night 3 together, they found Life and Mouse Trap to be the easiest to navigate without my assistance. In fact those are the two games that they enjoy the most. As a family we have played all of the games and their remixed versions, and it is a ball of fun! Clue is definitely the most difficult for my children to understand, but then again they are a bit young for that game.
All in all, Family Game Night 3 is a delightful way to spend time together. I still prefer the traditional board game play with my kids, but Family Game Night 3 is a great way to mix things up a bit. It also makes for great entertainment when friends and family stop by for a visit.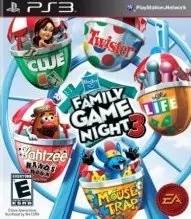 We have one copy of Family Game Night 3 to give away to one lucky reader. The game is available for Wii, PS3 or Xbox 360, so please let us know which platform you prefer. You can find Hasbro Family Game Night 3 in stores now for $34.99.
To enter to win, leave a comment below and tell us your favorite game: Clue, Twister, Mouse Trap, The Game of Life or Yahtzee. This giveaway is open to both US and Canadian shipping addresses and closes on Friday, February 11. We will announce our winner on Saturday, February 12.
This giveaway is void where prohibited. Please see our site's Terms and Conditions of Use for more information.
I received a copy of Hasbro Family Game Night 3 to review with my family. One copy has also been provided for giveaway purposes.
This post was written by 5 Minutes for Mom contributing editor, Erica.