This post may contain affiliate links. Read my disclosure policy here.
No! I don't want to take more antibiotics!
10 days ago I woke up with an extreme sore throat. It hurt to swallow, my ears felt sore and my head was congested. It wouldn't have been such a big deal, but a few days later I was supposed to be flying to LA for a movie premier and meeting Elton John. Since I'd burst my ear drum landing in NYC for BlogHer six months earlier, I knew that I had to take any ear aches or fluid in my ears seriously.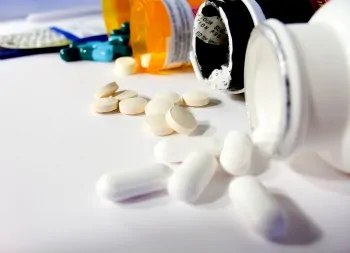 I went to a doctor who looked into my throat and ears, handed me a 7 day prescription for Amoxicillin and told me not to fly for at least 10 days.
I did as I was told and took the prescription for antibiotics and canceled my trip.
But, now only 3 days after my prescription for Amoxicillin ended, I have a new, but equally raging, sore throat. I suspect it's a new virus as my girls who had also finished their colds last week, were in contact with another nasty cold virus on Saturday and we're all sick again.
This cold virus seems to be doing exactly what the other did — going straight to my throat and ears. My throat is red and swollen, it hurts to swallow and my ears feel a little funny. My nose isn't stuffed up at this time. In my girls, it's presenting as extremely running noses, with some blood in the mucus. They tell me their throat and ears do not hurt.
Within the last month or two, my 5 year old Julia had to take antibiotic eye cream for an eye infection and Sophia had to take a 10 day does of oral Amoxicillin for an ear infection.
Now I'm scared we might be faced with more prescriptions for antibiotics.
And I don't want my kids or I to have to take more antibiotics if it's not absolutely necessary.
But ear aches and ear infections scare me! Especially now that I blew my ear drum flying and went for a couple months with a loud ringing in one ear and the fear I'd never hear properly again.
I am so profoundly grateful for the invention of antibiotics and I worry that our overuse of them will send us into a terrifying time when antibiotics no longer work at all. I am definitely NOT trying to say that I don't think we should follow our doctors' advice and take antibiotics when we need them. I just want to figure out if there are some ways we can reduce our use of antibiotics.
I'm really glad to see many educational campaigns in clinics and doctors' offices informing people that it is important to not misuse or overuse antibiotics. Many of these posters and pamphlets explain how antibiotics are not to be used for viruses and that they are only effective on bacterial infections.
But, I find that so often — especially in kids — these common cold viruses turn into throat, ear and eye infections and then prescribed antibiotics.
I'd like to find out if there are any effective natural ways to prevent and treat throat, ear and eye infections.
When I google "Alternatives to Antibiotics", I just get overwhelmed. It seems there are lots of books and websites telling us there are alternatives, but who can I trust?
So, since I'm a mom blogger through and through, I'm here asking YOU…
What do you think?
Do you think there are really alternatives to antibiotics?
What natural alternatives to antibiotics have you tried?
How often have you or your children taken antibiotics?
Have you developed yeast infections or other side effects from antibiotics?
If a doctor told you to take antibiotics, would you ever refuse to take them?
Please leave me a comment and tell me your opinion.
Let's turn this post into a resource… If you have blogged about or found any helpful references about alternatives to antibiotics, please leave a comment and include the links.
Also, I'd really love if you asked your readers what their opinions and experiences are and ask them to share their stories in a comment here. Again we welcome links in our comments to posts you or your readers write.
Disclaimer:
Please note that this post is not intended to provide medical advice. I simply want to find out what my fellow moms think about antibiotics. Of course you should take the advice of a trained medical care provider.
Written by Susan, co-founder of the Mom Blog, 5 Minutes for Mom
Tweet with me @5minutesformom