This post may contain affiliate links. Read my disclosure policy here.
While Janice was in San Diego with Sony, I was being flown to Walt Disney World for their first Mommy Blogger Mixer. They invited about sixteen of us to interact with them so that they could find out how to reach moms, how to dispel some myths that people might have about a Disney vacation, and to give us all a good time. We loved meeting each other and experiencing the magic of Disney.
We were ushered around like VIPs, because we were always with several Disney employees and we had a jam-packed schedule, and they wanted to fit as much in as possible. We ate one of the best meals I've had in a while at the California Grill, Disney's premier restaurant located at the Contemporary hotel, we saw the Cirque du Soleil show of La Nouba (which defies description), and yes, we even attended a character breakfast.
Here is Gabrielle, Jo-Lynne, and Amy M. posing with Goofy.
Epcot was hosting the International Flower and Garden show, which was spectacular. Here I am with Snow White and her Herby Dwarves.
It seemed a bit odd to be there on our own, without our kids, when all of us were thinking, "My child would love this," but it allowed us to focus on gathering information. At each meal or event, we were introduced to another Disney employee who not only loved their job and their company, but had detailed and sometimes surprising information to share.
In order to get the information out in an orderly way and be able to share details about what I learned, I'm going to be hosting a weekend carnival at my personal blog. Each Friday, I'm going to post on a specific topic, and I'm going to open it up to all of you fellow Disney-lovers to share your own experiences as well. You can link back to an old post that you wrote about it, or post on the topic of the weekend. I'm trying to round up some prizes to award the first couple of weeks as we get it going.
I'd love for you to jump in and participate or spread the word. This first weekend (starting Friday April 25) is going to be fairly general. You can write anything about the Magic of Disney. Click over to my blog to find out all about it and then check back on Friday to read through the posts. Jo-Lynne designed this adorable banner, and there's a sidebar button available on my site as well (If you really like it and you're thinking about spiffing up your blog, click through to see some of her work at DCR Design).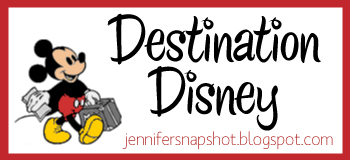 These are the talented and savvy women with whom I shared the magical weekend. They've posted some of their thoughts too, and some of them will be linking up with me this weekend. At any rate, I'm sure you'll find one or two new sites you love if you check them all out:
Amy of The Lady Bug And Her Blogging Mama and Mums The Wurd!
Amy of LIParentSource.com
Christine of Boston Mamas
Cooper of The Motherhood & Been There
Darcie of The Walt Disney World Moms Panel & Such The Spot
Elizabeth of Table For Five
Erin of Manic Mommies
Gabrielle of Design Mom
Jennifer of The Mom Salon
Jo-Lynne of Musings Of A Housewife
Kim of The Walt Disney World Moms Panel & Stop A Moment
Kris of Clever Parents
Lori Seaborg of Just Pure Lovely
Mary Beth of Cheaper By The Half Dozen
Mia Cronan of Main Street Mom
Stephanie of Adventures in Babywearing
Tracey of Suburban Diva