This post may contain affiliate links. Read my disclosure policy here.
We loved her in Dancing With the Stars. We also loved her in this darling interview with her nine-year-old daughter, Stella.
Here is a portion of Jennifer Grey's interview with Stella taken from the February issue of REDBOOK, which is on stands now. You can find the full interview at www.redbookmag.com/jennifergrey.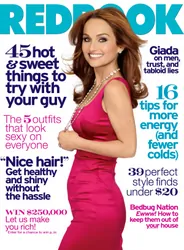 Stella: After you won Dancing With the Stars, did you feel like you wanted to do it again or that you never wanted to do it again?
Jennifer: I felt like I never wanted to do it again. I knew when I won that it was a once-in-a-lifetime moment, and I wanted to hold on to that. You gave me amazing advice during the entire 10 weeks.
Stella: What did I tell you when you would come home and weren't feeling so good?
Jennifer: You would say, "Would you come lie with me or watch a movie with me?" And even when I'd have to go to a rehearsal and not be able to be with you, you always said, "It's okay, Mom. I'm going to be here in three weeks when it's all over, but you're never going to have a chance like this again."
Stella: If you could be a backup dancer in any music video right now, who would it be for?
Jennifer: Hmm, maybe Lady Gaga. That's the one you'd probably like me to be in, right?
Stella: My favorite part of all was just being with you alone together. You can be an actress and a dancer and a great, funny, messy, nature-camping mom. What was the best thing about winning DWTS?
Jennifer: I don't think I ever once actually thought I could win. The best feeling about having won was knowing that I hadn't quit even though it was incredibly hard. I learned that no one can tell me that I'm too old or it's too late for me to do something.
Written by 5 Minutes for Mom contributing editor, Erica