This post may contain affiliate links. Read my disclosure policy here.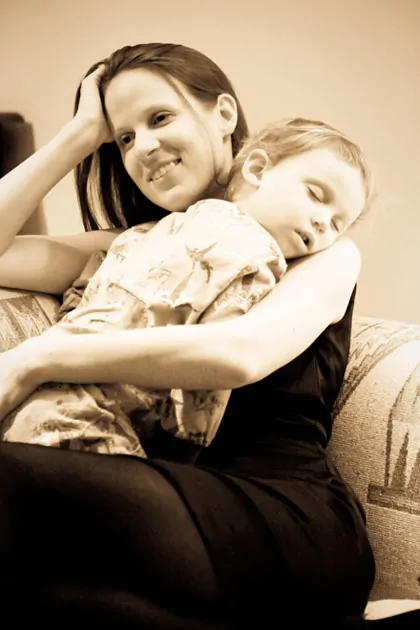 I am usually behind the camera.
And so, like many of you I bet, I am not in many photos! I wish that my kids would have more photos of me with them, loving every second of their beautiful lives. But, instead I worry they will wonder where I was! Thousands of photos without a mom in sight — because I am behind the lens.
So, when someone who knows their way around a camera is nearby, (and I have some makeup on!) I ask them to shoot a few photos of me with my kids — to show them that I was indeed right there all along.
At 2am, during the last moments of my in-laws Christmas Eve party, my friend and fabulous BC wedding photographer, Jenn Best, shot this photo of me with Olivia . The lighting and the couch in the room were terrible, but Jenn was a trooper and shot anyway. THANKS so much Jenn — it is one of my favorite photos of this Christmas!
Mom Bloggers (and Dad Bloggers too!) post a photo on your site, link up and find others… Wordless Wednesday is tons of fun. (And I know it says "wordless" but I just can't bear to not write anything! If I had created it, I probably would have named it something different! LOL)
Here is a fun thumbnail linky…
But if you prefer the old style, you can use this linky:
Thanks to Uisce for creating Wordless Wednesday.

Written by Janice, co-founder of 5 Minutes for Mom
Did you know that Susan and I own two online toy stores where you can find adorable toys like a pedal car or a cute rocking horse.