This post may contain affiliate links. Read my disclosure policy here.
The winner of a set of Karen Cole Papers' Notecards is #298 Kathy Pease.

Two winners who will receive an Alvin and the Chipmunks DVD and CD:
#34 TheAngelForever and #40 Leslie LaMamaNaturale.
#1 Devil Dog Wife will receive the DVD only.
Our 10 winners of SmartMom Teething Bling necklaces are
#134 christy
#110 Adrienne
#107 Deanne S.
#50 My Three Ring Circus
#34 MaryBeth
#3 jonna
#105 Kristine Needleman
#72 Grace
#65 Keara
#101 Jenn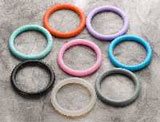 If you didn't win, you can order now and get a 20% discount with code S-5M4M. New for April, you can also get a FREE matching bangle with every pendant purchase – a $12 value. So click on over now to order your own SmartMom Teething Bling.