This post may contain affiliate links. Read my disclosure policy here.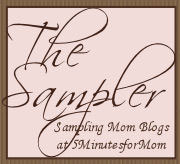 5 Minutes for Mom brings you exclusive samplings from the best mom blogs in our weekly column, The Sampler, hosted by 5 Minutes for Mom contributing editor Shera, from A Frog In My Soup.
Today we are featuring Kristen Welch, the wife and mom of three behind We Are THAT Family. "I chose that title because, well, we are THAT family . . . you know the ones! I blog because I love to write and I find it great therapy for life's bumps." Kristen's blog also reminds other moms that they aren't alone and that many other moms experience the same ups and downs of motherhood. I encourage all of you to visit Kristen's blog for more great posts like this one! Enjoy!
My Teeth Have A Low Self-Esteem
I found a new dentist for my kids. He's nice and his office staff is friendly and helpful. It's a family dentistry practice. So, he sees kids and adults.
There's a small kids waiting room with video games and toys. I have to force my children to play.
My husband liked the office so much, he became a patient.
That's nice. I wish I could.
Oh, I like everything about the dentist's office. My husband has encouraged me to switch. But I can't join the rest of THAT family in their fun dentistry adventures.
Why?
My teeth have a low self-esteem.
It's true.
Now, they aren't horrid. You might see me smile and think they even look nice. And, on the surface, you are right. But I have deep-seeded teeth issues.
As a child I was always the one who had a cavity. My siblings would get their photos posted on the bulletin board because they didn't have any. Stupid bulletin board.
I also didn't lose baby teeth. So, in order for the tooth fairy to visit me, I had to have my teeth pulled at the dentist's office. I remember once I had 8 teeth pulled in one day. There must have been pull one, get one free deal. My mom made great mashed potatoes, though. Good thing.
I brushed, flossed. It didn't matter. I got braces and went thru dental torture in my teen years. I wore a horrid head gear. Even then, I was THAT girl; you know the one who wears her headgear to jr. high. My mom did her best, really, she believed the orthodontist when he said where it 15 hours a day.
There was also too much of something in the water because my teeth came in splotchy. As a young adult, I had bonding put over them to trick people into thinking they were a beautiful shade of white. It's all a lie.
So all of these factors probably contributed to my teeth feeling so inadequate.
I'd really like to change dentists. I mean, really.
But I won't. I feel comfortable at my current dentist and that is saying a lot, considering my history.
His office is dingy. He is old and doesn't have any of the new equipment. His office staff is rude. It's inconvenient and it's hard to get an appointment.
And, there's a bonus.
He smokes. Yes, my dentist is a smoker. So, when he takes a peek at my pearly whites, and moves in for a close up, I get quite a whiff.
This makes me happy. I mean, my olfactory senses are offended, but my teeth? They feel right at home.
I scoured the city for a crummy dentist. I feel comfortable opening my mouth and revealing my giant fillings and my splotchy teeth. I know he won't expect much when he takes a look because between you and me, his teeth are nasty.
We belong together.
The other day my hubby was raving about the 'family dentist.' Hello? Can he really be called the 'family dentist' when not all the family attends? He was nudging me to come over to the pearly white side. But I've seen his dentist. I've watched him work on my children's teeth. He's young. He's handsome. And I'm pretty sure his glowing white teeth have been in toothpaste commercials.
When he sees me, he may even think (from afar), she has nice even teeth.
But upon closer inspection it would be, "My stars, (I'm pretty sure young, handsome dentist talk this way) your teeth are terrible." And then I'd feel like such a tooth failure. And he would want to do lots and lots of dental work. Which of course, freaks me out, considering my history.
When my current dentist looks into my mouth, do you know what he says?
"It looks good, I don't see a thing wrong," and he means it. He doesn't want to change a darn thing.
And this makes me feel terrific.
~ Written by Kristen Welch
Visit Kristen at: www.wearethatfamily.com
Favorite Topic: THAT family
If you would like to be considered for The Sampler please review The Sampler Guidelines.
This column is Hosted by Shera. She can be found at A Frog In My Soup