This post may contain affiliate links. Read my disclosure policy here.
Yesterday, in our first day of the "Two Weeks of Toys" Giveaway Event, we had some fun Playskool products for babies and preschoolers!
So, today is for the bigger kids out there! And what kid doesn't love… LEGO!
When Susan and I were young, we loved playing with Lego. It didn't matter that we were girls – we routinely chose Lego over Barbies. We loved losing ourselves in imaginative play and we used Lego to build stories.
One of our favorite Lego sets (that we inherited from our big brother) was a police set. Last year, I actually dug out our old Lego for Jackson to play with. Lego sure lasts forever!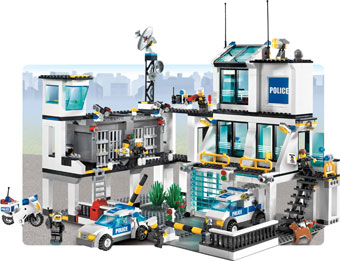 When Lego sent us the new LEGO® CITY Police Headquarters to review, it was almost as exciting for me as for Jackson. It is just as cool as the old stuff, but better! Definitely, it's a modern classic that Jackson will play with for years. And if Olivia is anything like I was, she will be stealing her big brother's Lego when she is old enough. (I bet they will argue one day about who gets to keep the Lego for their kids!)
The new 2008 Police theme provides a ton of realistic details, like gates and doors that open, spotlights on the roof, command base tower, and more, as well as seven mini-figures and three vehicles for action-packed play that will last for hours and hours.
I love that the set comes with step-by-step building instructions with a modular building option. With modular building, bricks are separated into numbered packages so one builder, or a team of builders, can complete one section at a time, and then assemble the full set for instant action play. We broke up the sections into different days so it wasn't too overwhelming for Jackson.
With the Police Headquarters play set young builders can create a police station complete with prisoner cells, an office area, garage, and secret passage walls. Set includes seven mini-figures, police dog, handcuffs, and three vehicles: police van, police car and police motorcycle. Age 6+.
Enter to Win:
If you want to win the new LEGO® CITY Police Headquarters, all the instructions about entering the "Two Weeks of Toys" Giveaways are included in the "Two Weeks of Toys" Giveaway post (including the code to put our "Two Weeks of Toys" Giveaway button on your site.)
But here is a quick run through:
Leave a comment on this post to be entered.
Post a link to this contest (it is always nice to let your readers have a chance to win too!) and/or link and post a button to our "Two Weeks of Toys" Giveaway post. (If you post the button and link to the "Two Weeks of Toys" Giveaway, you are qualified to enter in all the upcoming "Two Weeks of Toys" Giveaway contests. And we have two weeks of contests to come!) Non-bloggers are welcome too – we understand you can't link – but feel free to pass the word on to your friends.
(This giveaway is open to US shipping addresses only.)
Good luck! And we will see you tomorrow for our next "Two Weeks of Toys" Giveaway contest.
PS – Remember to enter each contest by commenting on each individual contest. So if you want to win this LEGO® CITY Police Headquarters leave a comment here at this post. You may enter as many of the "Two Weeks of Toys" contests as you wish. Just leave comments on the posts that you want to win. And if you have a blog, please spread the word so that other kids can get in on the fun. 🙂