This post may contain affiliate links. Read my disclosure policy here.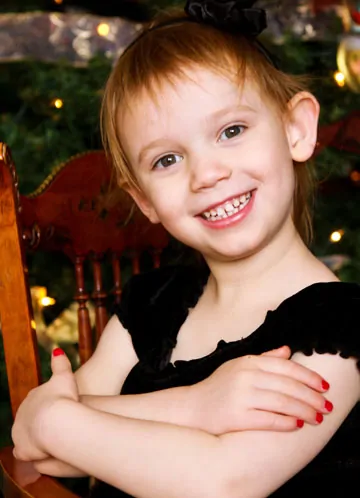 Olivia is thrilled about being old enough to perform in Christmas concerts this year. On Sunday, she filed onto the stage at church, the string of preschoolers dressed in their Christmas best, and sang her sweet heart to baby Jesus with "Away in a Manger." Here she is after church demonstrating for her proud mommy her manger for "Away in a Manger."
In case you thought you missed your chance, we wanted to make sure you knew that you can STILL get a Free Canvas or a $55 gift certificate for a larger canvas from The Canvas People. I am so excited — I have ordered six so far. I am obsessed.
This is an affiliate link so when you buy from them, it helps support 5 Minutes for Mom — and we really appreciate that support! THANKS!
Post a photo on your site, link up and find others… Wordless Wednesday is tons of fun. (And I know it says "wordless" but I just can't bear to not write anything! If I had created it, I probably would have named it something different! LOL)
Here is a fun thumbnail linky…
But if you prefer the old style, you can use this linky:
Thanks to Uisce for creating Wordless Wednesday.

Written by Janice, co-founder of 5 Minutes for Mom
Did you know that Susan and I own two online toy stores where you can find adorable toys for Christmas like a pedal car or a cute rocking horse. You know, in case Santa needs any ideas!